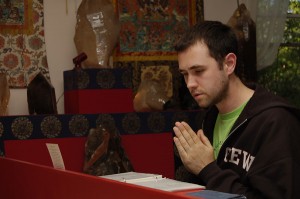 The following is an excerpt from a teaching offered by Jetsunma Ahkon Lhamo offered during a Phowa retreat:
I want to remind you. For many people, when they come to a retreat, the teaching section, to them, is the most important section. I can see why: Because you have to have commentary teaching; you have to have instruction. It is that instruction which prepares the mind and ripens the mind. And you have to be in the presence of your root guru in order for the mind to ripen. It simply will not ripen without that. So this is necessary. Plus, teaching is more entertaining. You know, we're listening, and it's interesting. So we think the teaching is the superior part of the retreat. Some of us may think, "Well, I'll come to the teaching but I won't come to the practice." Don't do that. Because while receiving this teaching is the first step and it will help you to recognize that you at least are in a bardo, and you may remember some of the things that I'm teaching you now while you're in the bardo, the likelihood that you're going to even remember what I'm saying now ten years from now is not so good. What has to be accomplished in Phowa practice is the practice. When you die, you won't be doing this practice. You'll be dying. You will be Phowa-ing for sure, but you won't be practicing this practice. You will be dying. Get that.
The reason why you want to practice this practice now is because it's the only chance you'll have. You need to practice this practice until we receive the desired result: You become familiar with the images; you become entrusting of the images. You create the virtue and karmic connection within this; you gather the virtue and create the karmic connection with Amitabha; you create the karmic connection with this state. But most of all, you need to do the practice because the practice is going to purify your inner channels.
Now, once again, none of you are perfect visualizers, so you're given a general visualization. That's all Westerners are ever given. Did you know that? That's all we are ever given, because there are extensive visualizations for every practice. Every practice has an extensive visualization, an intermediate visualization, and a condensed visualization. The extensive visualization is for people in retreat that have extraordinary capabilities for practice. We don't even have that capability. There are many people that don't even consider that they can visualize at all. So we are given a very condensed, abbreviated visualization, and even that you're not going to be able to visualize clearly. Naljorma, the inner channel, Lord Buddha Amitabha, the little disc, all of that together is a big load to visualize, particularly for those of us who have not locked ourselves into a cave anytime in the last decade in order to visualize. But that's not the point. Again, trust in your spiritual mentor.
If it were left up to the attributes of the sentient beings to accomplish Dharma, there would be no accomplishment of Dharma, because the Catch 22 is that as sentient beings we don't have those qualities. It is only through the implementation of the path that we begin to awaken to our nature, that we are in touch with those sorts of qualities. So we're not depending on your good qualities. You are depending on the good qualities of your teachers. And then eventually others will depend on your good qualities. That's how it goes.
So, you can do the visualization as simply and as profoundly as you are capable of doing. Relax your mind. Do not allow your mind to become tense if you forget one aspect of the visualization. The tension is more detrimental to your practice than the absence of visualization. So rather than becoming tense, do not make a big deal. Don't be such heavy breathers. Lighten up. Just relax. Do what you can. If all you can visualize is the tube, the jump, and the intention, and maybe even just knowing that Lord Buddha Amitabha, because of what I have said, is the kindest and most motherly, in a sense, of all the Buddhas—that confidence. You know, we pride ourselves on being so sophisticated: We've gone to school; we can think anything through; we are so proud of our Piled Higher 'n Deeper little pieces of paper and all that stuff. We're just so proud of that. And yet, here, in this case, if you can't visualize, and you don't have a brain of a goose, which I'm not sure any of us do, if you don't have any kind of brains whatsoever, I mean, nothin', (I get New York-y when I do this, I'm sorry, it sneaks up on me!), but common sense is common sense. Let's think about this. If you don't have the brains of a flea, and all you have is the simple trust that an infant would have when they cry and they have learned and they know that their mother will answer, that is superior to the kind of mind that's going, "Let's see now. What color was Wuma, and what color Amitabha? Oh, he's red. Now what shade of red?" We have to know these things. And let's see, "How is he facing, and where was his leg?" And that sort of thing. And that heavy energy that you're using to fixate yourself in the mud of your own ego clinging is not very useful. So, drop it. Better to have the simple image, simple intention, and innocent visualization of a child who knows its mother will answer their cry. That will get you into Dewachen a heck of a lot faster than trying to be correct. Okay?
So remember that your spiritual guides, the teachers that give you these practices, do not expect you to be Buddhas now. It is not to be hoped for that you will do this practice excellently, but it is to be hoped for that you will do it with confidence and faith. Even if you cannot visualize at all, the simple intention is helpful. So you try to do the best that you can, and the more you visualize the more you learn. The easiest are the singular visualizations like this, where you have one character, then on top there's another character, but basically you just have, in one line, two main characters. There are many practices where you have so many Buddhas and Bodhisattvas that you have to visualize so many different things. This is meant to be very simple. At the time of your death you may not even have the where-with-all to visualize anything, because, remember, as the elements begin to dissolve, those qualities which go to make up the kind of consciousness that can visualize will also be dissolving, and at that time you will have only your former training. When you actually do practice your final Phowa, when it is time to die, you will be relying on the training that you're doing now. So this training you should do with faith, simplicity, strength of purpose, conviction, pure intention to benefit beings. Those are the things that matter. And the simple doing of the practice, the simple moving of the winds through the central channel, with the intention of devotion toward Amitabha, and understanding, this is the result that cleans out the central channel. And that's what you want. Because when you get ready to die, you will need that central channel cleaned out.
Copyright © Jetsunma Ahkon Norbu Lhamo All rights reserved