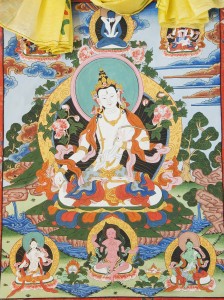 The Twenty‐One Homages to Tara
OM JETSÜMA PHAGMA DROLMA LA CHAG TSAL LO
OM To Jetsunma Arya Tara, I bow down.
CHAG TSAL DROLMA NYUR MA PAL MO
CHEN NI KE CHIG LOG DANG DRA MA
JIG TEN SUM GÖN CHU KYE SHAL GYI
GE SER JE WA LEI NI JUNG MA
Homage, Tara, quick and brave, with eyes that flash like lightning, born from the open corolla of
the lotus face of the protector of the three worlds.
CHAG TSAL TÖN KI DA WA KÜN TU
GANG WA GYA NEI TSEG PAI SHAL MA
KAR MA TONG TRAG TSOG PA NAM KYI
RAB TU CHE WAI ÖD RAB BAR MA
Homage, the lady whose face is filled with a hundred autumn full moons, blazing with the free
light of thousands of stars
CHAG TSAL SER NGO CHU NEI KYE KYI
PEDME CHAG NI NAM PAR GYEN MA
JIN PA TSÖN DRÜ KA THUB SHI WA
SÖD PA SAM TEN CHÖD YUL NYID MA
Homage, Lady whose hand is adorned with a golden‐blue, water‐born lotus whose realms of
practice is generosity, effort, austerity, peace, patience and meditation.
CHAG TSAL DE SHIN SHEG PAI TSUG TOR
THA WEI NAM PAR GYAL WAR CHÖD MA
MA LÜ PHA ROL CHIN PA THOB PAI
GYAL WAI SEI KYI SHIN TU TEN MA
Homage, Lady with Tathagata crown, enjoying infinite victory, attained all perfections, served by
the sons of the Buddha.
CHAG TSAL TUTARA HUNG YI GE
DÖD DANG CHOG DANG NAM KHA GANG MA
JIG TEN DÜN PO SHAB KYI NEN TE
LÜ PA MED PAR GUG PAR NÜ MA
Homage, Lady filling the desire realm, the directions and space with TUTTARE and HUM,
trampling the seven worlds with her feet, able to summon all
CHAG TSAL GYA JIN ME LHA TSANG PA
LUNG LHA NA TSOG WANG CHUG CHÖD MA
JUNG PO RO LANG DRI ZA NAM DANG
NÖD JIN TSOG KYI DÜN NEI TÖD MA
Homage,Lady worshiped by Indra, Agni, Brahma, Pavana and Vishveshvara, praised by hosts of
spirits, ghosts, gandharvas and yakshas.
CHAG TSAL TRAG CHE JA DANG PHET KYI
PHO ROL TRUL KHOR RAB TU JOM MA
WEI KUM YÖN KYANG SHAB KYI NEN TE
ME BAR TRUG PA SHIN TU BAR MA
Homage, Lady who destroys others' magic devices with TRAD and PHAT, trampling with left
foot up and right extended, blazing with a mass of blazing fire.
CHAT TSAL TU RE JIG PA CHEN PÖ
DÜD KYI PA WO NAM PAR JOM MA
CHU KYEI SHAL NI TRO NYER DEN DZED
DRA WO THAM CHED MA LÜ SÖD MA
Homage, Lady who destroys the heroes of Mara with fearful TURE, with the angry lotus face,
slayer of all enemies
CHAG TSAL KÖN CHOG SUM TSÖN CHAG GYAI
SOR MÖ THUG KAR NAM PAR GYEN MA
MA LÜ CHOG KYI KHOR LÖ GYEN PAI
RANG GI ÖD KYI TSOG NAM TRUG MA
Homage, Lady adorned with fingers over the heat in the mudra inducating the three Jewels,
adorned with the universal wheel, swirling with masses of its light.
CHAT TSAL RAB TU GA WA JID PAI
U GYEN ÖD KYI TRENG WA PEL MA
SHED PA RAB SHED TUTTARA YI
DÜD DANG JIG TEN WANG TU DZED MA
Homage, Lady diffusing garlands of light from her joyous, shining crown, subjugating the world
with laughing, mocking TUTTARE.
CHAG TSAL SA SHI KYONG WAI TSOG NAM
THAM CHED GUG PAR NÜ PA NYID MA
TRO NYER WO WAI YI GE HUNG GI
PHONG PA THAM CHED NAM PAR DROL MA
Homage, Lady able to summon all the hosts of the earthʹs protectors, saving from all poverty by
the movement of her angry brows and the letter HUM.
CHAG TRAL DA WAI DUM BUI U GYEN
GYEN PA THAM CHED SHIN TU BAR MA
RAL PAI TRÖD NEI ÖD PAG MED LEI
TAG PAR SHIN TU ÖD RAB DZED MA
Homage, Lady blazing with all jewels, head ornament a crescent moon, continually blazing with
light from Amitabha on her mass of piled hair.
CHAG TSAL KAL PA THA MAI ME TAR
BAR WAI TRENG WAI Ü NA NEI MA
YE KYANG YÖN KUM KÜN NEI KOR GAI
DRA YI PUNG NI NAM PAR JONG MA
Homage, Lady located in the center of a blazing garland like the fire at the end of the aeon, in a
joyous posture, right leg extended, left up, conquering the army of the enemy.
CHAG TSAL SA SHI Ö LA CHAG GI
THIL GYI LÜN CHING SHAB KYI DUNG MA
TRO NYER CHEN DZED YI GE HUNG GI
RIM PA DÜN PO NAM NI GEM MA
Homage, Lady touching the earth with her palm, pounding it with her feet, frowning angrily, the
letter HUM subduing the seven stages
CHAG TSAL DE MA GE MA SHI MA
NYANG NGEN DEI SHI CHÖ YUL NYID MA
SO HA OM DANG YANG DAG DEN MEI
DIG PA CHEN PO JOM PA NYID MA
Homage, Lady blissful, virtuous, peaceful, whose realms of practice is peaceful Nirvana, with
SOHA and OM conquering great negative actions.
CHAG TSAL KÜN NEI KOR RAB GA WAI
DRA YI LÜ NI RAB TU GEM MA
YI GE CHU PAI NGA NI KÖD PAI
RIG PA HUNG LEI DROL MA NYID MA
Homage, Lady by total joy destroying the bodies of enemies, saviouress arisen from HUM in the
mantra composed of ten letters.
CHAG TSAL TU REI SHAB NEI DAB PEI
HUNG GI NAM PAI SA BÖN NYID MA
RI RAB MEN TA RA DANG BIG JED
JIG TEN SUM NAM YO WA NYID MA
Homage, Lady, the seed of the form of HUM, striking with feet of TURE, shaking Mountain
Meru, Mandara, Kailasha and the three worlds.
CHAG TSAL LHA YI TSO YI NAM PAI
RI DAG TAG CHEN CHAG NA NAM MA
TA RA NYI JÖD PHET KYI YI GEI
DUG NAM MA LÜ PAR NI SEL MA
Homage, Lady holding the ʺdeer‐markedʺ, in the form of a sea of gods, with twice spoken TARA
and the letter PHAT cleansing all poisons.
CHAG TSAL LHA YI TSOG NAM GYAL PO
LHA DANG MI‐AM CHI YI TEN MA
KÜN NEI GO CHA GA WAI JID KYI
TSÖD DANG MI LAM NGEN PA SEL MA
Homage, Lady served by the king of the hosts of gods, by gods and spirits with the brilliance of
her joyous total armour dispelling disputes and bad dreams.
CHAG TSAL NYI MA DA WA GYEI PAI
CHEN NYI PO LA ÖD RAB SAL MA
HA RA NYI JÖD TUTTARA YI
SHIN TU DRAG POI RIM NED SEL MA
Homage, Lady shining with the light of two eyes, the sun and full moon, with twice spoken
HARA, and TUTTARE, curing terrible fevers and illnesses.
CHAG TSAL DE NYID SUM NAM KÖD PEI
SHI WAI THU DANG YANG DAG DEN MA
DÖN DANG RO LANG NÖD JIN TSOG NAM
JOM PA TU RE RAB CHOG NYID MA
Homage, Lady truly possessing the strength of peace by the array of the three essences,
conquering the hosts of demons, ghosts and yakshas, supreme Lady TURE.
TSA WAI NGAG KYI TÖD PA DI DANG
CHAG TSAL WA NI NYI SHU TSA CHIG
This is the praise of the root mantra, and the Twenty‐one Homages.
Benefit Verses
LHA MO LA GÜ YANG DAG DEN PAI
LO DEN GANG GI RAB DANG JÖD TE
Recited by an intelligent man, with true devotion to the goddess,
SÖD DANG THO RANG LANG PAR JE NEI
DREN PEI MI JIG THAM CHED RAB TER
Arising at evening or dawn and remembering them, they grant all fearlessnesses,
DIG PA THAM CHED RAB TU SHI WA
NGEN DRO THAM CHED JOM PA NYID DO
Pacify all negative actions and conquer all evil existences.
GYAL WA JE WA TRAG DÜN NAM KYI
NYUR DU W ANG NI KUR WAR GYUR LA
Quickly being initiated by seventy million Buddhas, thereby achieving greatness,
DI LEI CHE WA NYID NI THOB CHING
SANG GYE GO PHANG THAR THUG DER DRO
He will pass to the ultimate of Buddhahood.
DE YI DUG NI DRAG PO CHEN PO
TEN NEI PA‐AM SHEN YANG DRO WA
Even if he has eaten or drunk terrible poison, either inanimate or animate,
ZÖ PA DANG NI THUNG PA NYID KYANG
DREN PEI RAB TU SEL WA NYID THOB
By remembering them one will obtain purification.
DÖN DANG RIM DANG DUG GI ZIR WAI
DUG NGAL TSOG NI NAM PAR PANG TE
All the sufferings of demons, fevers and poisons are gone.
SEM CHEN SHEN PA NAM LA YANG NGO
NYI SUM DÜN DU NGÖN PAR JÖD NA
Even for other beings, if they are clearly recited two,
three and seven times,
BU DÖD PEI NI BU THOB GYUR SHING
NOR DÖD PEI NI NOR NAM NYID THOB
If one wishes a son, one will obtain a son. If one wishes wealth, one will obtain wealth.
DÖD PA THAM CHED THOB PAR GYUR LA
GEG NAM MED CHING SO SOR JOM GYUR CHIG
All wishes will be obtained, without hindrance, all will be conquered.
OM TARE TUTTARE TURE SO HA
GYAL YUM DROLMA KYED KU CHI DRA DANG
KHOR DANG KU TSE TSED DANG SHING KHAM DANG
Oh, Dolma, Mother of all the Buddhas, all forms are yours, all containers contained, and all realms are
yours. May their duration and ling life endure,
KYED KYI TSEN CHOG ZANG PO CHI DRA WA
DE DRA KHO NAR DAG SOG GYUR WAR SHOG
And in the excellence of all your goodness and sacred marks,
may we become identical with you in every way.
KYED LA TÖD CHING SOL WA TAB PEI THÜ
DAG SOG GANG NA NEI PAI SA CHOG SU
By the power of this prayer and hymn of praise,
may I and all others, wherever they may be, in every direction,
NED DÖN WUL PHONG THAB TSÖ SHI WA DANG
CHÖ DANG DRA SHI PHEL WAR DZE DU SOL
Have all our poverty, illnesses, obsessions and wars pacified.
Any may the hold Dharma and good fortune increase without end.
For a PDF download: https://www.tibetanbuddhistaltar.org/2010/06/21-homages-to-tara-pdf-download/