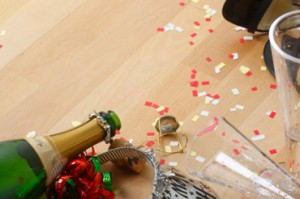 The following is an excerpt from a teaching by Jetsunma Ahkon Lhamo called "Essence of Devotion"
Let's say that you have suddenly woken up at the party. And you looked outside and you saw this horror—horror that people that you love and respect and know are doing their very best, are trying so hard, are not able to make themselves happy. And you see the suffering. You see hunger. You see poverty. Read the paper, it's all there—hunger, poverty, sickness, diseases that we can't cure, and more coming every day. So many different kinds of horrible suffering! Let's say at the party you woke up and you saw that. And then suddenly you looked at yourself and you thought, "Why am I dressed like this! I look more stupid than I can possibly imagine! This is stupid!" And you realize that you put so much effort into this, beating yourself up and getting the right connections and going to the party, and getting there in time, having a good time. You realize you've spent so much energy on that and you feel like… I hate to use this example but, let's say you ate a couple of tablespoons of nice warm mayonnaise. Bleh. That kind of cloying feeling in your mouth. Isn't that disgusting? That's how you'd feel. That's how you'd feel. You look at yourself, and you look at what's going on, and you look at the suffering out there and you look at the silly amusement—the silly things that hook us, that make us respond, the ridiculous things that make up our particular individual kind of party—and suddenly you feel like you're sick of it.
There's a feeling once you study the suffering of sentient beings and the horror of cyclic existence. It becomes a little bit nauseating, sickening in your mouth. You've been eating it your whole life, sickening. You look at yourself go through cycle after cycle of unfulfilling or sometimes negative bad relationships and you just wonder when you're going to get the big picture, when you're going to wise up. It suddenly seems like your own lust and your own neediness are kind of like a little sickening. Maybe not all the way yet, but not so cool.
Suddenly you look at yourself and you realize that you're kind of like a kid, just wearing clothes that are inappropriate. It reminds me of what little kids do. My daughter is not here so I can talk about her again. Sometimes she likes to play dress up, you know. She's goes into a closet and pulls out everything that doesn't match and all of the funny clothes that young people think are very dramatic. We took her out for dinner with her friend last night and what they wanted to wear was a funny-looking skirt and blouse that didn't match, cowboy boots, a cowboy hat, and pants underneath it. It was just a very strange outfit. At this party you kind of look like that. You know, we look at ourselves and we go, "Who put this on me? How did this happen?" It's that kind of feeling.
So at that point one needs to build on that first inkling of reality, that first inkling of renunciation. That first inkling is precious. It's like the first taste of pure water in your mouth. Let's say you are a person who, for your whole life, has had nothing to eat or drink other than, let's say, salt water, sugar water, nasty foods, warm mayonnaise, things like that that just don't feel good in your mouth, and suddenly someone gives you just a bit of this precious, sweetest, coolest water to drink—mountain water, pure mountain water. How delicious would that be! Cool and sweet in a natural way. Your mouth maybe can't even take it in. You're used to that other stuff and you can't even take it in, but something inside of you says, "Yes. Yes. This is it!"
Copyright © Jetsunma Ahkon Norbu Lhamo. All rights reserved