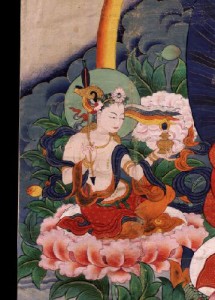 The following is from a series of tweets by Jetsunma Ahkon Lhamo:
I have been told many times that I worry. I must say I disagree. I do study things, try to puzzle cause and effect, try to glimpse behind the curtain. I love to notice patterns and find their meaning. I like to study abnormal psychology, love to hear about case studies, what makes people tick. I find reactions fascinating! I've learned that each bit of phenomena is amazing.
So you may see me with a knit brow…but this life has taught me squarely that it is a dream. One moment you feel mortally wounded, then with a little tweaking it isn't so anymore. I've found if we step back and breathe we can avoid getting all tied up in stuff, and bound in neurosis, insanity. It's choices.
Life is a whirling colorful, mesmerizing dance with lights, sound and distraction, like a circus. And like a circus it soon packs up and disappears, leaving only dust and tracks in dirt.
If we study life and think in sane full equations that add up, we can manage well. If we sink into reaction, rage, fear, despair, we will be ground into blood and guts and will always be a bee in a bottle. Round and round with no rhyme or reason or true purpose. And certainly with no accomplishment. Meditation, mantra, and prayer, all help soothe and deepen the mind, increases our view, relaxes our ego-clinging, helps us expand our thinking and being into something beautiful. Extraordinary! We can "be" to the degree that we can laugh with pure joy. Dance. Howl at the moon… cry, mourn and recover well. No, I don't worry about life or death. I am into knowing, connecting, loving, laughing and recovery for all from trauma. I don't take it so seriously. And I never worry anymore! I'd call that a victory of view!
OM TARE TUTTARE TURE SOHA!
Copyright © Jetsunma Ahkon Lhamo. All rights reserved