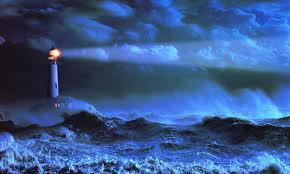 The following is an excerpt from a teaching by Jetsunma Ahkon Lhamo called "Conceptual Proliferation"
According to the teaching, and according to the recommendations that all of our teachers have given us, those thoughts have no inherent reality other than the reality that we give them in expressing and clinging to the continuum. So if we were to simply let them be what they are, they're just bubbles, only bubbles, and we can let them go. Our tendency, however, happens to be a very neurotic one. When we see a bubble rise to the surface of the lake of our mind, first of all we don't even get that our mind is a lake, we're just in this sea of wavy stuff, just constantly in this big wavy sea. And so when a bubble rises to the surface of the sea of despair that we are involved in, we beat it to a froth. I mean we get our little psychic eggbeater and we just go to town beating it and whipping it up. And pretty soon we have lots and lots of bubbles. And then the next thing we do is say, 'Oh my God, bubbles!' And we panic and follow them everywhere they go. And we assume that because those bubbles are there, we are the bubbles. And that is our life.
Now the Buddha teaches us that we don't have to do that. In fact, that's really dumb! So the first thing you want to do when you get up in the morning is think, 'I really don't know what's going on here. I've been whipping myself into a froth of confusion since who knows when, and I'm really just not getting the big picture.' That's when it's possible to accomplish some view, because the view comes in where you can look at the Buddha, the Dharma and the Sangha, and you can look at your guru or teacher as being the representative and administrator of those three and the embodiment of those three, and you can think, 'Well, in my confusion even I can see that the Buddha was different than me. Not in his nature, because he taught that in the nature we are the same; but in his perception he was different.' The Buddha said, about himself, "I am awake." That means when a bubble rose to the lake of his mind, he knew what to do with it, or what not to do with it. He didn't panic and beat it into a froth. His mind wasn't filled with the samsaric, conditioned response and conceptual proliferation that ours is. His mind was very much like a lake. He wasn't filled with the same kind of confusion that we are, so he could see clearly. And when the Buddha tells you that your nature is not like that and that you can let it go and that you can meditate on emptiness and arrive at accomplishing wisdom and compassion, then you can believe that that's true. And you can believe it more than you can believe actually what your own two eyes and your own mind tells you. Now that's scary for Westerners, because we've been taught, 'Think for yourself!' Well, try to remember what thinking for yourself actually means. You've been doing it since you were born and what good has it done you so far. I mean think about it. You've been whipping yourself into a froth since time out of mind, and wandering in samsara and confusion.
So when we look to the Buddha, we look at someone who has crossed that ocean, who has seen, who has had the mist taken from his view, his eyes, you see, and he can see more clearly. He does not assume the idea of self-nature as being inherently real. He has accomplished the understanding of his own true nature, which is that primordial wisdom state. So he's clear, you see? Not like us. He does not do duality. He does not do attraction and repulsion. He does not do hope and fear. And he does not do super-structuring, or conceptual proliferation. When you think about the Dharma, you think that is actually the teaching that the Buddha has brought to the world. And he brought to the world a means, or a way, by which each one of us can accomplish that kind of clarity. When we think of the Sangha, we think of the Sangha as the religious community, or spiritual community, that engages in the practice and upholds the practice and makes it available to us. When we think of the lama, we think of the lama as being all those three wrapped into one, because the lama gives us the Buddha's teaching, has accomplished the teaching as well, provides a means by which we can receive the teaching, and keeps the teaching safe and available to us. And so the lama, then, is like the doctor or the nurse who actually gives us the medicine.
Therefore, the view becomes this: I have been wandering in samsara since time out of mind. I cannot see straight. I'm wandering kind of helplessly because I have this false assumption and all kinds of false contrivance that arise from that, and confusion that arises from that. Therefore, I take refuge in that which is clarity, in what which is the primordial wisdom, in that which is the very display of innate wakefulness without confusion. I take refuge in the Buddha, Dharma, Sangha, and especially in the lama as being all three. And so the view becomes that: The lama is seen as that which is a beacon of clear light in a world where we are wandering in confusion. And we hold that view. That is one way in which we should most assuredly view the guru. That is the understanding.
Copyright © Jetsunma Ahkon Lhamo. All rights reserved