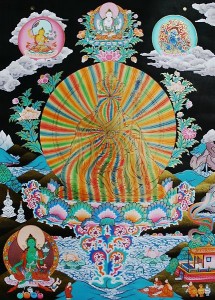 An excerpt from a teaching called How to Pray by Being by Jetsunma Ahkon Lhamo
Truth be told, we haven't really awakened to the conditionless state yet. Maybe we've had a few experiences in our meditation, a little taste of emptiness if we really go deeply into our practice, but it's only for a second.
For most of us, we are unable to let the boxes down so that our view opens and we are in a state of recognition. Because of that, we are taught that we should rely upon the Three Precious Jewels—the Buddha, the Dharma and the Sangha, and mostly especially the Lama, as the embodiment of all three.
In other words, when we see the lama, we are seeing the Nirmanakaya or body form of the Buddha—a projection of the Buddha nature in phenomena. The Nirmanakaya has appearance and characteristics, but these are gossamer thin. These are insubstantial, like dew on a hot morning. And so we rely on our teacher as the representation of the primordial wisdom nature.
We rely on the Buddha because the Buddha is the doctor who gives us teachings—tells us what is wrong with us and how to fix it.
We rely on the Dharma, which is the medicine—the tried-and-true method that practitioners have used for thousands of years to escape the suffering of samsara.
We rely on the Sangha who care for us, like a nursemaid, until we are awake. It's as if we are in a coma, and there's nobody to take care of us but these nurses. The nurses bring us the medicine. They support us. And so we love and respect the sangha.
© copyright Jetsunma Ahkon Lhamo all rights reserved