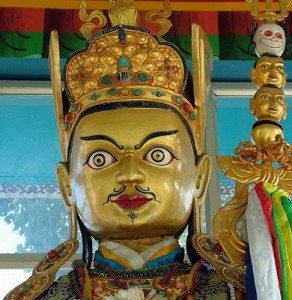 The following is respectfully quoted from "The Great Perfection: Buddha in the Palm of the Hand" by Gyaltrul Rinpoche
The first root downfall is to disrespect one's root guru or gurus. If we belittle or disrespect our spiritual teacher, our guru, then not only do we shut the door to liberation, but probably we will have a difficult time getting out of the lower realms.
What makes someone your guru, your spiritual teacher? To begin with, an empowerment. Once you have received an empowerment from a teacher, the teacher becomes the guru, the object that this first vow pertains to. When it comes to inner tantric empowerments this is especially so. If a person has been your teacher from childhood onward, has taught you dharma continuously, or has been an important catalyst for the development of your insight, or has given you teachings on the generation and completion stages, or has openly revealed to you the secret oral instructions on the great perfection atiyoga, this person can be considered your guru. This kind of teacher is said to be one who has been kind to you in three ways: by giving you empowerment, by giving you teachings on generation and completion stage practice, and by giving you teachings on the great perfection. Whether the teacher has given you only one, two, or all three of these, if you disparage or belittle that teacher in any way the samaya is lost.
Now how is this done? For instance, if you feel that you are more learned than the teacher, and that you could have done it better. In the extreme case you would eliminate your teacher so that you could take his place. Or, with a mind of jealousy, anger, or attachment, any of the poisons, to speak badly about the teacher to others, to tease the teacher, to disrespect teacher from the door of your body (such as ignoring the teacher), to disturb the teacher, upset the teacher's mind, or cause the teacher to be displeased–of all broken samaya this is the heaviest. Very difficult.
As it has been taught, as an antidote to these problems, and to avoid them, you must always see the spiritual teacher as a living buddha and the embodiment of all buddhas, in all situations.