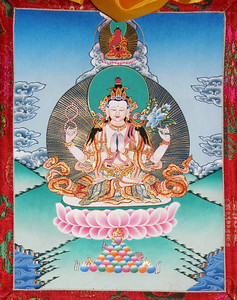 An excerpt from a teaching by Jetsunma Ahkon Lhamo called Coming Alive
In your practice and in your mind and in your heart, keep yourself innocent and keep yourself alive. If you think that spiritually you know everything, enough to tell others, then believe me, you know nothing. Refresh yourself and practice as though you were a living practitioner. Live in your heart. Live in your mind. Live in your purpose. It's not too late. It can be done. For those of you who have gone brain dead on your path, it can be done. For those of you who are just starting, if you hear these words and you are inspired, please practice them just the way I've given them to you, always. While you have breath in your body, make your spiritual practice, your spiritual contact, and a true one. Every prayer is the potential for the miraculous, because it is according to your intention. Intention is everything.
If you can pray by ripping your heart open, if tears come to your eyes, if you are moved to the depth of your being, if you can beg for the cause of sentient beings, then please do so, and do it without ceasing. Never let yourself get so sophisticated that you come to the point that you are satisfied with your practice. Never let yourself become so immune that you can say a prayer in passing, without having something catch in your throat. I'm asking you to be there with your purpose. Go into your cave. Meet with the core or root mindstream that is your being, your nature. Whatever that is that you're looking for when you look into the eyes of your root guru and you're hungry for something, whatever it is that you want, that made you come here to the path, keep it open. Approach the core of your being with that prayer. The only way that you can do that is by ripping it open and letting it be. Be alive spiritually.
I've had those experiences. I know the difference, and I want to convey to you that you are both in trouble and free. You're in danger of losing that every single minute! And yet you are free to go that deep and that pure and that innocent every single minute.
I have had the sickening experience of watching myself pray because one of my children was in danger. There was a time when my older son had Rocky Mountain spotted fever, and they were not able to diagnose it. He was dying. His brain was swelling. His eyes were going out of focus. He was gritting his teeth so much that his teeth were starting to crack. His organs were swelling inside his body. You could palpitate his liver. Yet they didn't know why he was dying. You never heard prayer like mine before! It was before I met Buddhism so I didn't know about prostrations, but I was on the floor–up and down begging and pleading, exchanging my life over and over again. I vowed that I would do nothing but benefit sentient beings. I asked that I be transformed into whatever it was that was necessary for my son to live. Oh, I prayed unbelievably. When the medicine came, it was a simple medicine. It was tetracycline I think. When the healing started and his eyes could focus and I could put a spoon into his mouth without him breaking his teeth on it, I remember giving thanks. It was like a new day. I'd been born all over again. Unbelievable.
How was it then, that a month later, when my son was eating hot dogs and running around and had gained some of the weight back and was looking normal, that when I prayed I didn't feel that same magic? I didn't cry. I didn't beg. How was it that I could watch myself pray from that point of rawness and then a month later pray like a politician? How is that possible? It's possible for all of us, don't you see? I'm sharing this with you so that you'll understand. It is your natural tendency, and there is a way out of it. And only you can do this. I can't do it for you. No one can do it for you. Don't wait until life's misfortunes force you. You can be taught it in a passive and beautiful and beneficial way, or you can be taught it by life, which is a lot harder.
Please learn how to pray. Learn how to practice. Take yourself off the path of familiarity and complacency and put yourself on the path of Dharma as it is really practiced and has always been practiced by the great Vajra masters of our tradition and the great Bodhisattvas who are responsible for our salvation today.
This is my message for you. I hope that you can hear it with your whole heart and give birth to yourself again. Now it is up to you. I wish I could do it for you! I wish I had that power, but I don't have that power and neither does anyone else besides you. You're in charge here and the ball is in your court that you can be alive spiritually.
© Jetsunma Ahkön Lhamo