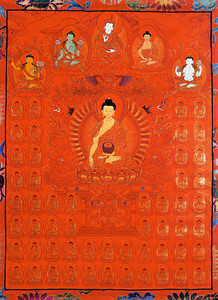 An excerpt from a teaching called How to Pray By Being by Jetsunma Ahkon Lhamo
The Buddha taught that there is no self, that all that exists is primordial wisdom nature, with every potential, including the idea of self and the idea of phenomena rising out of emptiness. This potential is here. Although one of the ways that the primordial wisdom nature displays itself is in phenomena, we cling to phenomena as being inherently real. In fact, we cut our teeth on phenomena.
We have experienced phenomena since time out of mind, and so we are accustomed to the experience. It's the only thing that makes us feel safe. Oddly enough, we spend all of our time contemplating the solidity of self nature, and we believe that self nature is inherently real. We identify with this body, thinking it's us. We think that if we hold onto to self nature, we'll be safe because we'll be us. We think, "I'll be staying here, you'll be staying there, and we'll continue in phenomena." But in fact, there is no difference between phenomena and emptiness. They are the same nature. They are the same essence. They are the same taste.
So while our habitual tendencies cause us to remain in this delusion of separation, still this nature exists—wholesome, absolutely complete and perfect, with no need for aggrandizement, with no need for construction. It is as it is. This is the nature that is our nature, and it is as much our experience, even now, as phenomena are, but it frightens us. So we cling to phenomena. Sadly enough, we become self-absorbed in that process. We think, "Oh this is me. I've got to take care of myself. I've got to do what is right by me. I've got to have fun. I've got to have excitement. I've got to have pleasure." And that's our experience—even though emptiness is at hand and we experience emptiness in our nature now. The Buddha nature that is our nature is complete. It doesn't need any tinkering. Still, we cling to the idea of self. And of course, that's the trouble that we're in now.
© Jetsunma Ahkon Lhamo