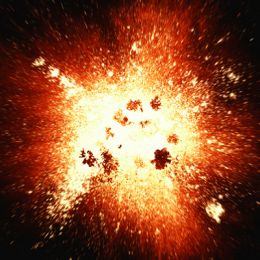 An excerpt from a teaching called How to Pray by Being by Jetsunma Ahkon Lhamo
Quantum physicists are beginning to understand that the universe is multidimensional. They are beginning to understand that because their math is not working, there must be something else out there that they can't figure out. The reason why their calculations don't work is because they leave out one of the components of reality—consciousness. Time, space and consciousness are inseparable. So scientists are mistakenly looking out with their telescopes for the birth of the universe.
I've been asked, "How did this explosion of phenomena start?" I tell people, "Close your eyes. Let everything go. Dissolve into emptiness." They do it. After a while I say, "Okay open your eyes." Then I explain: "When you opened your eyes, that was the Big Bang. That was the moment. That was when movement started. That was it. It's not out there."
Phenomena appear in many different ways, in as many different ways as we can conceive, in as many different ways as we can move away from emptiness. The universe is an entanglement of intentions, dreams and potentials. Each one of us, every sentient being, experiences a separate and different phenomenon. Even though we are all in the same room, everyone here is experiencing a separate and different reality according to his or her individual karma.
The places that we can go in samsara are endless. They are infinite. As we conceive something, more phenomena are created. Lord Buddha taught about interdependent origination, that cause and effect arise simultaneously. They are linked. Even though we see the cause, we usually don't see the result. That's because we are still in a place where everything seems to be outside of us.
We pray like that, too. We think, "I am praying to Guru Rinpoche, and he's going to make everything better." We think, "I'll say some words or I'll say some mantra and magically they will go there and sprinkle star dust on everybody." We pray as though we are unconnected. We pray as though we are not in charge. We pray by rote like parrots. We repeat our prayers and hope for the best, as if prayer is a magic incantation. We don't have any idea how there's going to be any benefit.
In order to pray let's understand that, first of all, we are all that is, suchness, the uncontrived primordial view. We are every potential in its essential uncontrived form. Our nature is that which is unborn and yet absolutely complete and perfect in every detail. It isn't made. It isn't grown. It can't become stronger or weaker. It is conditionless. And so we practice view to allow the boxes in our mind to fall away so that we can recognize that conditionless state and awaken to it at last. Our prayers have to be like that as well.
© Jetsunma Ahkon Lhamo