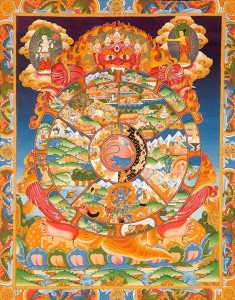 The following is an excerpt from a teaching by Jetsunma Ahkon Lhamo called "Neurotic Interaction to Guru Yoga"
Today we are going to continue the process of looking at two main and fundamental foundational teachings associated with the Buddhadharma. We have examined and re-examined the Bodhicitta, which is one of the main foundational attitudes and practices and accomplishments that one should gather on the path, and now we are moving towards the Guru Yoga. There are many areas in which these two subjects connect, and one has to develop the foundational thoughts, as I've indicated many times before, the thoughts that turn the mind towards Dharma. Also one has to develop the thoughts that make one understand the condition of sentient beings and the failings of samsara, or the sufferings of samsara. If one were to understand these in a logical and realistic way, and go through the effort of contemplating them so that a real understanding is arrived at, and take responsibility for that, then it's easy, or at least easier, to move into a deeper practice of the Guru Yoga, a deeper understanding of Bodhicitta, the twofold accomplishment of wisdom and knowledge. These things are much more easily arrived at when one studies the foundational teachings. So try to remember that. No matter what stage you're at in practicing the path, one has to reorient oneself all the time. It's similar to, let's say, you're forty years old and you've had the experience of living for forty years so you have certain things about living that you're comfortable with, that you're certain about. You know by this time the sun is most likely going to rise and set.
We find that if we are to continue to keep ourselves spiritually on the mark to where we feel satisfied about our spiritual practice, we find that periodically we have to reorient ourselves, and for some of us it might take different forms. Many of us have realized by now that we need a certain amount of time spent alone in contemplation. Many of us realize now that we need to reorient ourselves with nature—that one should align oneself with the cycles of life, the cycles of night and day, the cycles of the seasons, the natural directions and natural occurrences that occur in our world—and that is useful and good too.
When it comes to Dharma this is certainly the case, but the need here is more specific. Yes, you may find that you do need a certain amount of time alone. I think really that all people do. That you do need a certain amount of time out in nature and you do need a certain amount of meditation time and so forth and so on. But beyond that, particularly and specifically with Dharma, one needs to reorient oneself on the path by discovering and rediscovering again the faults of cyclic existence—the thoughts that turn the mind, the linking cause and effect conditions that we find in samsara. Turning the mind—this is something that one needs to accomplish on a regular basis. There never is a time when you are actually finished with that.
So this is something that I speak about constantly. I know that you feel that you've already heard this. I agree that you may have already had it meet with your ears, but the hearing part, well that's a different story. We don't know if that's actually happened yet or not, because the level of personal responsibility that I'm talking about is absolutely essential.
Copyright © Jetsunma Ahkon Norbu Lhamo. All rights reserved