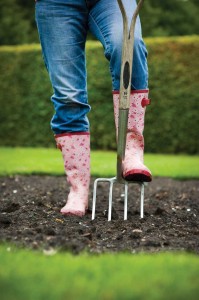 The following is an excerpt from a teaching by Jetsunma Ahkon Lhamo called "Relationship with the Lama in Vajrayana"
In the beginning of every Buddhist teaching, , before one actually begins any of the deeper practices, there is one practice that is called the Four Thoughts That Turn the Mind.
The idea is to think of the mind as having the potential, like the earth, to raise the flower of enlightenment. Any field that you look at, unless it's been poisoned in some way, has the potential to grow within it the crop of your choice – in this case, the crop of enlightenment. But before you actually begin to grow that crop, you have to cultivate the earth. You have to plow it and water it and fertilize it. You have to take care of it. The mind is very much like that. Even though it has the potential for enlightenment, because of our dualistic thinking, and because from time-out-of-mind until this point, we have been involved with the delusion of ego as being the central factor, and with the survival idea that is associated with that, we haven't had time to really adopt the idea of enlightenment as being the primary focus. And therefore, we haven't had time to prepare our minds for that idea.
You may consider that this is true for you even though it isn't pleasant to think about. It isn't pleasant to think that we've spent so much time only on survival. But it's probably true. And you're not the only person on the earth for whom this is true. It's true for so many of us that it's normal.
You might try to determine whether or not that is true for you personally, and you might be able to honestly and sincerely look back on your life and see that it is true. But if you can't do that, then you might think of this as evidential. You might think whether, first of all, you have found a path that you are certain leads to supreme enlightenment. And the way you can ascertain that is by looking around and seeing whether in the past, or even in the present, it has produced, and continues to produce, enlightenment that is visible, predictable and reportable.
If you have found such a path, then are you able to maintain that path with diligence? That means, are you able to maintain that path in such a way that you don't get that on-again-off-again cyclic involvement that so many people in meditation do? Are you able to remain firm? When you find this path, and it becomes a central focus in your life, in times of both joy and fear, is this path always the answer to your problems? But most of all, you should look to see whether you are certain enough about this path to have it be your source of refuge. Is it the thing you turn to? And do you consistently practice it everyday? If all these factors have been met, then your mind has been turned.
For 99.9% of the human beings on this earth, not only have they not found a path that always leads to supreme enlightenment, but once they do find it, they're on-again-off-again. And even when they're on-again, their true source of refuge seems to be the ordinary human addictions that we all have like material goods, or trying to find things in an ordinary way that make you feel up like mood manipulation, relationships, physical safety. These things are our addictions, and these are what we consider to be our sources of refuge.
So for 99.9% of all the people on the earth, the Four Thoughts That Turn the Mind are extraordinarily useful. And even a dyed-in-the-wool Buddhist, a person who has taken ordination, who has been a practicing Buddhist all their lives, and whose first teaching was the Four Thoughts That Turn the Mind, still even for that person, I personally recommend that they practice the Four Thoughts That Turn the Mind continually, from now until the end of this incarnation. Maybe having it be the last thing you think of before you die.
Copyright © Jetsunma Ahkon Lhamo. All rights reserved