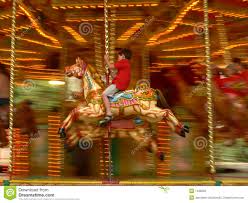 The following is an excerpt from a teaching by Jetsunma Ahkon Lhamo called "Desire Blocks Happiness"
So we have a problem here. We really have to get off the merry-go-round, and we have to look at things square in the eye. And there's no getting away from it: One of the problems of cyclic existence is that we can't see very clearly. Isn't it true? Isn't it true that even once we make the decision to lead a virtuous life, and to think as I've just described, then we sit there and we think hatefully in our minds. We think hateful thoughts in our minds; we think jealous thoughts in our minds; we think competitive thoughts in our minds; we think judgmental thoughts in our minds. We think "I want." We think all of these things—angry, vengeful, whatever it is. And we think because no one else can hear it besides us, that it's really okay as long as we can maintain a beatific exterior. You know, a sweet kind of exterior. As long as we do that, we're okay. Isn't that true? Don't you think that's true? Well, the difficulty is, you can't even take your smile with you! Ha, ha, ha! So when you go into the bardo, what will be there is what's behind it—the habit of your mind, the habit of hatred or ignorance or grasping.
One of the great Bodhisattva prayers that I've read—and every time I hear it, it brings tears to my eyes, because it's so true—translates to roughly like this, "If it is true that I cannot even take so much as one sesame seed with me when I die, why not offer all that I have to the liberation and salvation of all sentient beings?" Why not do that? I'm going to lose it anyway. Reminds me a little bit of the old trick of knowing that pretty soon you're going to have to pay this enormous amount of taxes because you sold this house, so you quick gotta buy another one. It's kind of like that. You know you're going to lose it anyway. Why not make it something useful?
On this Path there are many different ways to do that. One can become a renunciate, as these monks and nuns are renunciates. And believe me, once you have put on these robes, that does not mean that you have renounced cyclic existence. It means that you are trying. Sometimes I catch these guys not renouncing cyclic existence. Just every now and then, I catch them clinging to cyclic existence like you can't believe. But you can try. You can really try to practice in that way where you actually renounce cyclic existence and you take a certain form. You take an outward appearance, and you practice inwardly according to that outward appearance. In other words, they wear only the Buddhist robes, most of the time, and they practice the Buddha's teachings; and they don't drink, and they remain celibate, and they don't lie. And there are many different exterior vows that they take. They also try to practice within their heart in a very pure way. And then you can also practice as a layperson, who looks very ordinary, and who engages in the ordinary activities of life with the ordinary trappings that sentient beings engage in. But inside you would practice certain kinds of meditation. Particularly you might think of practicing stabilizing the mind through meditation. That is letting thoughts come to the mind—thoughts of grasping or thoughts of hatred—and allowing those thoughts to merely dissolve. And there are certain techniques and technologies that you can apply to actually do that. Or practicing in such a way as to generate oneself as the deity, as the Buddhas and Bodhisattvas, and in doing that, generate one's environment as a celestial palace; and that being a celestial palace, it has only pure qualities. And therefore, having only pure qualities, there's nothing to grasp onto. So that you might have or not have something; you might be married or not be married; you might have children or not have children. You might have objects or not have objects; but at any rate each one of these objects is seen as an emanation of the enlightened quality of the Buddha, and it's nothing to grasp onto. It's nothing to hold onto. It's nothing that you would call mine. Do you see what I'm saying? So it's an inner kind of more subtle practice.
There are many different ways to practice on this Path, as many different ways as there are people. But it starts with that little breakdown—getting off that merry-go-round. Looking at yourself, and seeing the faults of cyclic existence, and seeing that you have never yet been satisfied by it. And seeing that it's time to pacify that inflammation within the mind. The inflammation is the problem.
This teaching is very difficult to understand unless you can apply some direct technology, unless you can really get into some substantial practice. And if you wish to do so, you should keep coming to the temple. And at some point you should ask about entering into deeper practice. This is just a practice meant to display some of the meaning of the Path to those who are not practicing so deeply at this point or who are not practicing Buddhism, actually; and also increasing the understanding of those who are practicing Buddhism.
But there is a technology that must be applied that would be beneficial. If one were to simply try to understand what I have said in this way… If one were to say, "Okay, I guess what she means is I can't get excited about anything anymore. Or I can't feel really happy, and really high. Or I should just make myself really passive," then you would not be understanding what I'm saying. That's not what I'm saying. I'm not saying that you should adopt a mask of stillness. I'm not saying that you should force yourself to roll your eyes ever skyward and appear beatific and holy from this point on. That would be a farce. That would be silly. In fact, that's a very neurotic way to act, and I wouldn't recommend it at all. You might think that what I'm saying that you should do is act very spiritual and very sweet and very kindly, when in your heart there's a raging fire. And I'm not saying that. That's a very neurotic way to do, and that will cause you to take valium very quickly. That is not the method. Valium is not the method on this Path.
© Jetsunma Ahkön Lhamo All Rights Reserved