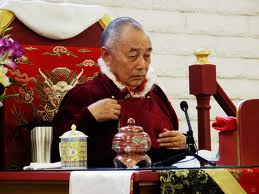 The following is respectfully quoted from "Great Perfection: Buddha in the Palm of the Hand" commentary by Gyaltrul Rinpoche:
Faith cannot be forced in the disciple's mind. You must understand the qualities of the objects of your faith; only then is there a ground for faith. Because these are difficult times, if a disciple has true, firm faith that isn't wishy-washy but is based on a true wish to practice on the path, and if a teacher at least possesses impartial compassion, then these two make a suitable connection–the faithful disciple and the compassionate teacher–and it is appropriate to nurture that connection and practice on the path.
Obviously, these are not all of the qualities mentioned above, but it is very difficult if not impossible, in these degenerate times, for both lama and disciple to have all the qualifications and to come together at the same time. What is obvious and true for you now is what you call your "luck," which is actually the force of good karma accumulated in the past; you only call it "luck" because you know nothing about it. It's just an accumulation that you've unknowingly made.
Look at your present situation and compare yourself with millions of people in this and other countries who have no time for any kind of spiritual pursuit. This karma you have is really quite strong because it's remarkably natural and easy for you–at least for these Nam Cho transmissions. Sofr these particular transmissions there's a great amount of karma that we're all a part of, and a great amount since the Nam Cho revelations are teachings of the ninth vehicle, the peak of the path, the atiyoga transmissions, you should rejoice in having this kind of natural, spontaneously arising karma to make these kinds of connections.
Padmasambhava said, "My dharma of the secret mantra is extremely dangerous, like taking a wish-fulfilling jewel off the head of a poisonous snake." If you're able to get the wish-fulfilling jewel it has the power to fulfill all your wishes. But you risk your life trying to get it. Padmasambhava gave this analogy for the path of secret mantra, and it pertains especially to the path of terma revelations. There is also the analogy of the snake in the bamboo shaft with only two directions to go: up or down. If you keep samaya and practice well, you go straight up and experience very swift results. If you don't keep samaya and don't practice, then just as good results are swift, so are negative ones.
To be a suitable disciple, the main quality you need is faith. It doesn't matter which dharma you're receiving–Kagyu, Nyingma, Sakya, Gelugpa; hinayana, mahayana–you don't even need to be smart. You just need faith.