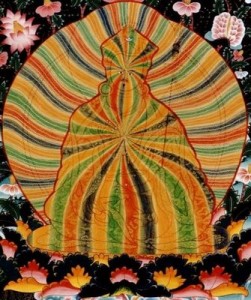 The following is respectfully quoted from the Namcho Daily Practice book published by Palyul Ling International:
OM AH HUNG
KHA NYAM SI ZHI KYAB KUN NYING PO CHU
Of all the refuges in samsara and nirvana present throughout space, the quintessence
WANG DRAG RIG DZIN PEMA TO TRENG SAL
Is the powerful and wrathful vidyadhara, Pema To Treng Tsal.
KHYOD KUR NANG SI GYAL WE KYILKHOR DZOG
The phenomenal world is totally perfected within his body as a Buddha mandala.
DRO KUN SI LE DRAL CHIR KYAB SUM CHI
We take refuge so all may cross over unenlightened existence.
Repeat three times
SANG CHOG YESHE OSAL TIG LE SHIR
We generate Bodhicitta on the fundamental ground (alaya) of the sphere (bindhu),
DRO KUN DRIB SUM DAG NE KU DANG SUNG
The supremely secret clear light and ultimate wisdom,
TUG CHI TIG LER LHUN DRUB NANG ZHI NGAG
So all beings may purify the three obscurations,
SHON NU BUM KUR DROL WAR SEM KYED DO
And attain the spontaneously self-perfected bindu of body, speech and mind, and through the four spontaneous visions, attain liberation in the youthful vase body.
Repeat three times