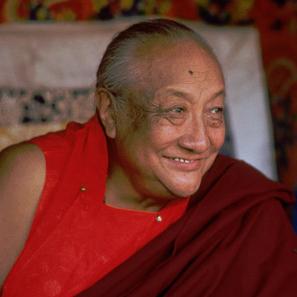 The following is respectfully quoted from "Enlightened Journey: the Life and World of Khyentse Rinpoche" by Matthieu Riccard:
Change and Continuity
The Spiritual Legacy
Transmission and continuity are key points in the Buddhist tradition. The living teachers must not die out; true spiritual realization must be imparted from teacher to disciple. Great Tibetan masters are not isolated mystics. Their wisdom, rooted in the fertile earth of their own confidence and perseverance, has slowly ripened in the sun of their teacher's blessings and wisdom. There are many ways to please one's teacher and repay his kindness, but the way considered best of all is to put his teachings into practice until genuine realization dawns in one's own mind.
Of this way, Khyentse Rinpoche's life was a perfect example. Besides his two main teachers, he studied with more than fifty outstanding masters from all schools of Tibetan Buddhism. Having entirely integrated the teachings into his own being, he could then impart them to thousands of disciples. Among those disciples, a few became true holders of the teachings, his spiritual heirs, and are continuing the lineage today.
Trulshik Rinpoche, born in 1924, is not simply a lineage holder; he is also the principal depository of Khyentse Rinpoche's "mind treasures," as specifically predicted in the texts of these treasures. He is also the main bestower of monastic vows in the Nyingma lineages and has ordained several thousand monks.
in the 1960's, after a pilgrimage to Namo Buddha in Nepal, Khyentse Rinpoche dreamt one night that he was climbing a lofty mountain. At the summit was a small temple. He entered, and inside, side by side, his own former teachers–the three main lamas of Shechen monastery: Shechen Gyaltsap Rinpoche, Shechen Rabjam, and Shechen Kongtrul. Khyentse Rinpoche prostrated himself before them and, singing in sorrowful verse, asked them how they had suffered at the hands of the Chinese (all three of them having perished in Chinese jails in the early sixties). With one voice they replied, also in verse, saying, "For us birth and death are like dreams or illusions. The absolute state knows neither increase nor decline." Khyentse Rinpoche expressed his wish to join them soon in the buddhafields, since he saw little point in remaining in a world where the teachings were vanishing fast and most teachers were but spurious impostors. At this point, Shechen Kongtrul, gazing at Khyentse Rinpoche with a piercing stare, said, "You must toil to benefit beings and perpetuate the teachings until your last breath. Merging into one, the three of us will come to you as a single incarnation, a helper to fulfill your aims."