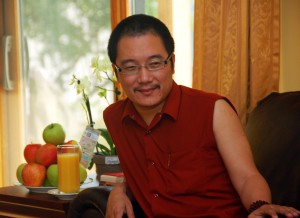 From a series of tweets by Jetsunma Ahkon Lhamo while at Palyul Ling Retreat Center in Upstate New York:
To the victorious Guru Karma Kuchen I pray – for the sake of beings in these degenerate times, ascend the Lion Throne of Palyul fully endowed with every strength and virtue! May we who long for your blessing be satisfied!
In previous times you came to us as Karma Tashi to clear our ignorance, our attachment to ordinary confused appearance!
You again sat on the glorious Palyul throne to grant us the awakening to Primordial Buddha nature as the great display Karma Gyurmed, the dance of suchness, as it is!
Then you returned as Karma Tegchog Nyingpo, also known as Tsawei Lama by the peerless Guru, the Third Drubwang Pema Norbu Rinpoche.
You now have come again as Karma Kuchen, pure and stainless. Kye ho! Such are the many miracles of your display for the sake of beings. Now please abide steadfast upon the Lotus Throne of my heart. Rise this very moment, clear all obstacles to mighty Palyul, banish the enemies of the Heart Essence Nectar given to us by the second Buddha Padmasambava through the child Terton Migure Dorje. Restore us all to original purity, clear recognition and perfect virtue!
May Palyul remain as the great unbroken refuge it is in the world now. Please establish the work of your predecessors and that of our Guru. Protect with mighty vigor the insurmountable accomplishment of our Guru Kyabje Pema Norbu, may nothing be wasted, and may all beings benefit!  Live long! Strengthen the Throne of Palyul and remain in perfect health! Show your holy face as we hunger and thirst; and we need you now more than ever, in these darkening times we need your light, the sun of Palyul, Guru within my heart, grant your blessings!
Copyright © Jetsunma Ahkon Lhamo.  All rights reserved