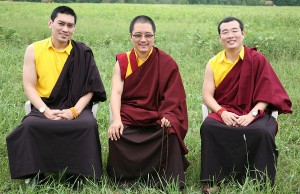 The following is from a series of tweets by Jetsunma Ahkon Lhamo:
Shortly before Kyabje His Holiness Penor Rinpoche had His Parinirvana, He watched me watching His Holiness Karma Kuchen Rinpoche. His Holiness gave me a deep look and said "He is better than me. "
It must be true. Tsawei Lama  said it. The more I read and pray I know it's true. I cannot explain the gifts I've been given.
His Holiness Karma Kuchen Rinpoche is the inheritor, and the two other heart sons are supports. His Eminence MugsangRinpoche is for America.
OM AH HUNG BENZAR GURU PEDMA SIDDHI HUNG!
Copyright © Jetsunma Ahkon Norbu Lhamo All rights reserved