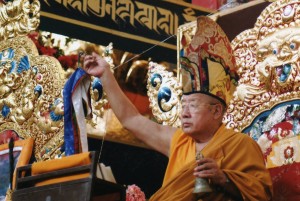 The following is respectfully excerpted from "How to Follow a Spiritual Master" edited by the Ngagyur Nyingma Institute:
We have tried above to show the deeper meaning and role of a Spiritual Master, as well as the way in which he should be sought and followed, by first looking at what dharma means, how it came into this world and further in Tibet; we also looked at a summary of the extensive teachings given in both sutras and tantras about the Master and disciple relationship.
We saw that we do not only have to carefully examine a prospective Master, but we also have to fundamentally alter our outer and inner behavior to be able to benefit from his presence, Teachings and Blessings.
Today, moreover, we are living in what is known as the degenerate times, presenting us with additional challenges, as well as making the rare opportunities to meet and be guided by an authentic Teacher even more exceptional and precious.
Why is this period we live in called degenerate times? Prophecies abound about the particularity of our times and its struggles, yet it is very difficult for us to recognize or acknowledge this, because this degeneration of times is rooted in the thickening of our own obscuration and deepening of ignorance with the inevitably correlated narrowing of our mind's horizon.
How can it be so, we may ask, when most people are talking about a general progress and improvement? Well, if we examine the nature of the so-called progress and the apparent increase in personal freedom, we will soon realize that these, indeed, only relate to the pursuit of external goals. By this we count on an increase of material wealth, improvement of facilities- albiet for some part of the world only; people are becoming more eager to speak their mind, believe in their own ability and strive for the betterment of their physical surroundings. This however does not occur without a cost, that we are not prepared to examine.
Improving material wealth happens at the cost of the environment both physical and social, whereby those in pursuit of this goal will sacrifice anything to achieve success, family, values and traditions which are reminding us of the impermanence of people and things,  the need to remind ourselves of the cycle of suffering and death. Instead they put these considerations to the side and engage in a frenzied chase without ever seeing a satisfaction to their desires and perceived needs.
Young people are demanding more freedom and responsibility, refusing to listen to older generations experiences, believing they know better than their parents or teachers and thereby unleashing an unrestrained flow of conflict, suffering and quarrels among families and social groups. As such generations succeed each other, less moral values, understanding and compassion are to be found, since they are systematically uprooted from the children both at home and in school.
It is therefore very difficult for us these days, even if we have the fortunate karma to meet with an authentic Spiritual Master, to be able to follow him according to the advice we are hearing. The values of respect and service are alien to our western society and appear old fashioned and obsolete. The habits we have acquired from our social surroundings are so strong yet subtle that they reflect the narrowing of our ability to reflect on the benefit of such advice and form layers of obstacles we have to work hard to recognize and eliminate.
Furthermore, we have the innate tendency to want to see results there and then, even before understanding what the situation really is and what is needed to remedy to it. We listen superficially to a little bit of advice, may be, if we have time try to apply it over breakfast, and by lunch time complain that we have seen no improvement; by evening time we are demoralized and go to the pictures to console ourselves.
This certainly cannot work and does not reflect any understanding of how long habits have taken to form. Like ruts, we now unconsciously follow them and Masters warn us over again that overturning them is not an easy matter, which can be accomplished overnight. Methods to do so exist, but what we lack is the sustained determination to apply them at any cost and the real concentration to do so. This sustained determination, this unfailing courage we are exhorted to develop are the fruits of both inner reflections on the Teachings we receive from our Masters as well as the unshakable confidence in their validity, born out of faith and devotion.
So although the texts describe in great details the preciousness of our human life, the only form of existence, which allows us to free ourselves from the cycle of Samsara, through meeting with the dharma and authentic Masters, we act as if we could waste this life in trivial pursuits with impunity. Although we do not know when the moment of death will occur, we act as if eons are in front of us to enjoy, and when death strikes, we are just as helpless and lost as any other, wandering without realization in the bardo and rushing indiscriminately into the next samsaric rebirth.
To benefit from having sought, found and to follow an authentic Master correctly, we must therefore unfold vigilance and courage as never before.