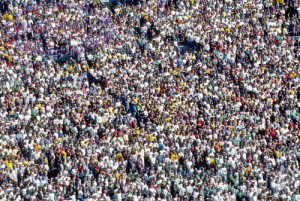 An excerpt from a teaching by Jetsunma Ahkon Lhamo from the Vow of Love Series
If we wish to enter onto the path of a Bodhisattva and become that which benefits beings, we must have a heart that yearns for compassionate activity. We must want to help, or we wouldn't be able to receive teachings like this. This being the case, the first thing we have to do is let go of the concepts we have about how cool we are going to be when this process is finished. We cannot hold on to the rigid kind of thinking that honors only self. We must think of others.
How many of you are there? One, right? Look down, how many do you count? It's easy. So far as you know, there is only one of you. Now look around at the human beings in your immediate environment. Then think about all the human beings on this earth: 5.9 billion, at least. If your mind is really that of a Bodhisattva, you couldn't think for a moment of going around telling others how great you are. You couldn't think for a moment that it could be in any way important that you do the dance, or sing the song, or appear in some certain way that satisfies you, because there's only one of you, and there are 5.9 billion of them. If you have a mind that's free of the attachment to self, free of the burden of believing strongly in self-nature, then you must realize that weighed against 5.9 billion human beings, you simply don't weigh very much.
If you really wish to fulfill the idea of a Bodhisattva that is free of attachment to ego, free of the delusion that self-nature is relevant and important, and if you really wish to consider living a life of compassion, then serving others must become more important than even your own life. It is not that you become like a martyr. We're not talking about the Christian concept of a martyr. It's really different than that. It's just mechanics. It's just logic. It's just math. There are more of them than there are of you, so they matter more. With that idea, you seek only to benefit others. That being the case, as an aspiring Bodhisattva, you must begin to examine what the mind of Bodhicitta really is.
Copyright © Jetsunma Ahkon Lhamo. All rights reserved