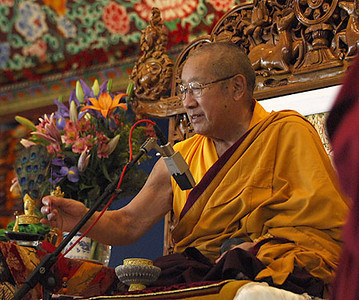 The following is adapted from an oral commentary given by His Holiness in conjunction with a ceremony wherein he bestowed the bodhisattva vow upon a gathering of disciples at Namdroling in Bozeman, Montana, November 1999:
This leads to the third stage concerning the aspect of adjusting one's intention [which is the first of four aspects of the preliminaries to the ritual for receiving the vow]: transcending the two extremes of samsara and enlightenment by vowing to maintain the middle way. The practice of the enlightened mind, bodhicitta, involves two levels, the aspirational and the practical. Maybe you're thinking, "If we reject the suffering of the three realms of existence and avoid attraction to the quiescence of the hearers and solitary realizers, what is there for us to obtain?" What we are to obtain is the state of bodhisattvahood, which is dependent on bodhicitta cultivated for the sake of self and others. It is only bodhicitta that leads beings from the suffering of existence to the state of fully enlightened buddhahood. We must avoid the two extremes: the quiescence of ordinary nirvana and the endless cycle of samsara. It is only through cultivating bodhicitta that we can truly follow the middle way.
Through cultivating bodhicitta you will purify all nonvirtue accumulated in the past, present, and future, and compassion and all noble qualities, including the ability to meditate in samadhi, will blossom in your mind. As you dedicate yourself to the welfare of others, the [strength of your] vow will increase to the point where are you are truly able to help sentient beings as limitless as space. You will be able to bring limitless beings to enlightenment, until the ocean of existence is emptied. The Buddha taught that without the cultivation of the precious bodhicitta, there is no chance to achieve the state of fully enlightened buddhahood. Therefore, for the purpose of all other living beings, with great enthusiastic joy you should give rise to the precious bodhicitta and engage in the actual practice.