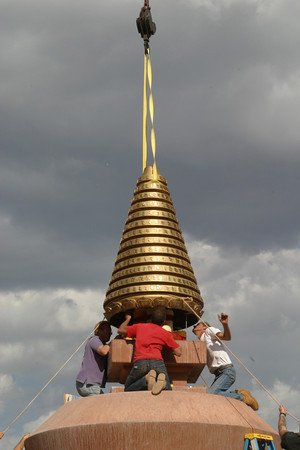 The following is an excerpt from a teaching by Jetsunma Ahkon Lhamo called "The Foundation of Bodhicitta"
Now it sounds like I'm making a sales pitch. "You too can do this." Well in a sense, I am. But what I'm really trying to do is to open your eyes to the potential here. Please don't let me express this in such a way as to indicate to you that it is easy. All you have to do is practice a little Dharma and bingo you have got it. The kind of offering that I'm talking about, the kind of bodhicitta, the kind of generosity that I'm talking about takes a life time and more of absolute and total commitment to practice,. of actually practicing sincerely for the benefit of sentient beings; but only under that condition can you offer the ultimate gift—the gift of enlightenment. In cyclic existence, there is no end to suffering. The only end to suffering is one exits cyclic existence; and one only exits the cycle of death and rebirth upon achieving enlightenment. How can you help others to achieve enlightenment? Well, you can't until you yourself have achieved some enlightenment.
In the meantime, you can help build stupas; you can make tsa tsas; you can sponsor enlightened activity; you can support your temple. You can do all of those things. You can practice, and you can dedicate the virtue of your practice to the liberation and salvation of all sentient beings. That is a very significant gift. That is a very significant act of bodhicitta. But ultimately the true benefit comes when you yourself have achieved realization in order to benefit sentient beings; and that you are able to return in such a form that you can provide the path and provide the method. You can provide the impetus. You can provide the empowerment and the fertilization that is necessary in order to ripen each and every sentient being's buddha seed so that it can bring forth the flower of enlightenment.
It is not a selfish goal. It is not an immediate end to the suffering of sentient beings so you might fall into the trap of thinking, 'Well what is the kindest thing to do? Practice to beat the band or work in a soup kitchen.' Now we are taught that working in a soup kitchen would be the most compassionate thing to do, but actually it is two different kinds of compassion, you see. Working in a soup kitchen would be temporary compassion, temporary bodhicitta. Working to achieve realization would be ultimate bodhicitta. Two different kinds. The Buddha teaches us don't waste your time. Spend the main bulk of your time on the ultimate bodhicitta.
Copyright © Jetsunma Ahkon Norbu Lhamo All rights reserved