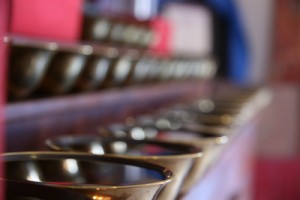 The Stanzas of Offering Water from the Pure Vision, An Ocean of Blessings
By His Holiness Dudjom Lingpa
HUNG YAN LAG GYED DAN DUD TSI DZING BU DI
HUNG Offering a lake of nectar possessing the eight qualities of pure water
CHOM DAN KHOR DANG CHE LA BUL WAR GYI
To all the Buddhas and Bodhisattvas
ZHE NE DAG DAG SEM CHAN THAM CHAD KYI
By acceptance of this offering, may I and all sentient beings
TSOG DZOG DRIB TAG KHOR WA TONG TRUK SHOG
Accumulate merit and wisdom, purify all obscurations and liberate all beings.
Mantra:
OM SARVA TATHAGATA SAPARIWARA ARGHAM PRATI TSA PUJA MEGHA SAMUDRA SAPA RANA SAMAYA AH HUNG
One night in a dream a white Dakini appeared to Dudjom Lingpa. She said that she was Sukha Siddhi and proceeded to recite the above offering stanzas for the sake of all sentient beings. She said that this wishing prayer included everything. This vision arose in the dream of Dudjom Lingpa after a prayer for water offering was requested of him by Lama Tsultim Dorje. It was recorded by Dudjom Lingpa's secretary, Phuntsog Tashi.