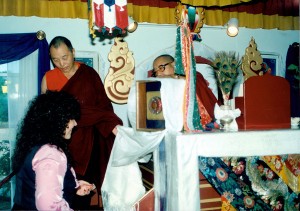 The following is an excerpt from a teaching by Jetsunma Ahkon Lhamo called "Love Now, Dzogchen Later"
Well, today I'd actually like to tell you a story. And I think it is seasonal in one way in that this time of year we generally think about what we want or what we want to give or how, or maybe family relationships and what needs to improve in our lives. And a lot of times at the end of the year during this holiday season and at the beginning of the next upcoming year, we kind of reassess ourselves;. reassess our lives, and kind of take stock. And I would like to tell you this story to help you take stock a little bit, and to give you some motivation, you know, some perspective. Because I think that if you come to this temple and you practice, you may not necessarily understand or know what's going on in the greater Dharma community. Some people travel around but some people don't. Some people stay here down on the farm with me. And so you might need to be exposed to some context in the Dharma community.
When I first met His Holiness Penor Rinpoche, that was quite a while ago, almost twenty years. I met him the first time that he came to the United States. And one of the reasons actually that he came to the United States, besides being invited, was that he heard that there was this American woman over there and he heard stories about me. And he knew in his mind that this was someone that he had been looking for for a long time. I came to find out later on that when he was a very young monk the first time he held the kapala, or the skull cup, of the first Ahkön Lhamo, it was before the Chinese invasion, and so it was whole, in one piece. First time he held that cup, he said, "Oh." He made prayers: "If there is any way I can find this dakini in this lifetime, I would like to do that." He set his goal that way. And so of course with a mind such as his, when the goal is set, the deed is done. When he heard my name, and heard something about me, he knew immediately. But of course he didn't tell me immediately. All I knew was that this lama was coming to my house. He'd never been to America before, and I really did not know what a lama actually was. I thought, "Guy sitting on rug. Guy wearing sheet." I really didn't know. I mean I had a great deal of respect for Buddhist thought and it was coming to my mind naturally. In fact, I was teaching meditation that I later found out to be based on Mahayana Buddhism. So, it was pretty interesting that this all came about so naturally. But then when he came to the house, we didn't know protocol. We didn't know respect. We didn't know nothing. I knew how to barbeque, that's what I knew. And so we had a barbecue and we moved my two sons to another room, and put Penor Rinpoche and Lobsang in the same room; and Lobsang's like, "Oh God! Save me! Don't you have another room?" "Well, why? Is it crowded in there?" "But you don't understand."
But you know, they were very nice. And then they asked for some tea. So, I thought, "These are Buddhists. They want to be calm." What did I know? So, I made chamomile tea, and I gave the teapot to Lobsang to give to His Holiness on a tray nicely set up. and His Holiness sent back a message, "What is that? Bugs floating on top?" You know how the little flowers float? "No." "Don't you have some other kind of tea?" "We have regular tea." "Oh yeah, we want regular tea." I thought, you know, Buddhists like to be peaceful. I thought.
And then the worst, the worst. He was so gracious and so kind. He never put himself up in any way or, you know, was anything less than the most humble of monks. I mean he never indicated that he was such a spectacular lama. And besides I didn't even understand what the term meant—high lama, you know, lineage holder. I mean, I could understand the English words, but I didn't have any way to put them all together. So, we had this barbeque and I served him a plate of hotdogs. And you know just the old America food, which he was pretty interested in actually. He sort of liked it. You know, he ate it. But then I remember plopping down right next to him and saying, "So, what's Tibet really like?" or something like that, you know. You know him now. He's such a righteous, orthodox, holy kind a guy. Can you imagine? Can you imagine this Injee twit comes and plops down next to him and says, "So, how's it going?"
I was used to Southern hospitality. So, I made another big meal (and I was a pretty good cook back then) and had some friends bring some stuff too. We sat him at the head of the table and said to His Holiness, "Please, help yourself to everything we have." He gets served. I didn't know that. And so Lobsang's going,… Lobsang was a lot younger then. "No, I'll do it, I'll do it." Well, that was back in the day and the reason why I'm telling you this funny story is because things have changed so much since then.
Copyright © Jetsunma Ahkon Norbu Lhamo All rights reserved