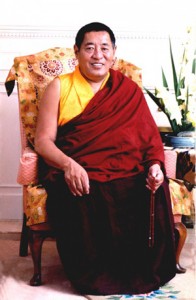 The following is an excerpt from a public talk given by His Holiness Khenpo Jigme Phuntsok:
This vehicle of secret mantra, Vajrayana, is the principal vehicle of Buddhism that is practiced in Tibet, and now we find it spreading throughout America and other countries. There are many Dharma centers that have been established in America, primarily by Tibetan lamas who are upholders of the Vajrayana tradition. This means that many of the American disciples are now becoming practitioners and upholders of this tradition. In fact, throughout this world, Vajrayana Buddhism is already firmly established in some 32 countries.
Within the secret mantra vehicle, the ultimate, absolute pinnacle, the enlightened mind of all the Buddhas and Bodhisattvas condensed into one essence, the heart blood of all the Dakinis, is the quintessential path known as the Clear Light Great Perfection, or Ati Yoga. This Doctrine of the Great Perfection is dependent upon the receiving of what is termed pointing out instructions or pith essential instructions which can be passed from teacher to disciple in the form of just a word or two. In fact, if everything is auspicious according to the way that the Clear Light Great Perfection is actually transmitted, it is taught that if those essential instructions are given in the evening, by sunrise one will be enlightened. If they are given at sunrise, by evening one will be enlightened. So this is considered to be the most expedient path to liberation.
To meet with the Clear Light Great Perfection is something that is so precious and rare that it is taught that just to hear the words of the Dzogchen teaching, the teachings on the level of Ati Yoga, closes the door to rebirth in the three lower realms and puts one safely and directly on the path to liberation as a Buddha. So it is a Dharma that has the power to liberate just by contact, just by sight, just by recollection. Even to recall the words of the Dzogchen teachings is something that is so precious and profound that it is likened to having a wish-fulfilling jewel in the palms of your hands. It is not a Dharma that is filled with elaborations and complexities that takes a lot of time to accomplish or establish. It is a Dharma that, if it meets with the right individual or the perfect aspirant, is something that is easy to practice and that can be applied to every aspect of life in a very simple way producing very direct results. However, this Dharma, this Doctrine, must only fall into the hands of those disciples who have the karmic affinity for it which is something that must be established due to karmic connections. Otherwise it is a Dharma that is meant to be kept secret or to be guarded from any other type of situation.
When we think about Tibet and how the Dharma came into Tibet originally, it was due to the kindness of the great Orgyen Rinpoche, Guru Padmasambhava, and Vimalamitra. In fact, there have never been two teachers of the likes of these two who have ever come since then. They are so great and profound. Guru Rinpoche and Vimalamitra only gave the Dzogchen teachings to their closest heart disciples and only after a tremendous kind of karmic affinity had been established. It is not something that is just given in any other circumstances. In Tibet there exists to the present day the eight great chariots of traditions and teachings of practice which are very sublime and extraordinary. However, amongst them it is only in the tradition of the secret Nyingmapa that these Dzogchen teachings are found, and they are unequalled by any other.
Now I have a personal feeling about this, and I mentioned it a little bit in San Francisco. Since I've come to America I have seen that there is a very strong connection here for the Dzogchen teachings. I have also had an opportunity while I've been in the United States to give Dharma teachings on different subjects, but I find when I teach on the subject of Dzogchen, which is the Tibetan term for this Clear Light Great Perfection, this Ati Yoga category, that I find that people become much more enthusiastic and the faith wells up inside of them in a different kind of way. I liken this to the situation in this country at this time where the country itself is very powerful and there is much material prosperity, but also everyone is extremely busy and people don't have too much of a chance to practice elaborate forms of religious or spiritual instructions. So in noticing all of these coincidences coming together, I truly have seen that Americans have a strong connection with the Dzogchen doctrine and that this is probably the most important doctrine to propagate here at this time. Therefore I have a very strong hope that each and every one of you will have an opportunity to meet with the Dzogchen doctrine and put it into practice in your lives.
If you practice the Dzogchen in this life alone, you will immediately receive the benefits of good health and mental contentment. That's why you can use someone like Gyaltrul Rinpoche as an example. Even though he's old now, much older than most of you, he's still very happy. His mind is filled with content and his body is still healthy too. This is because of the point I just brought out. I think it also might be true for Ahkön Lhamo as well.