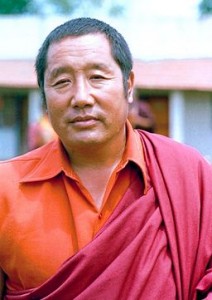 The following is an excerpt from a teaching by Jetsunma Ahkon Lhamo called "Love Now, Dzogchen Later"
At the same time I first got to know His Holiness and we began to actually have conversations,  I was talking a great deal to Gyaltrul Rinpoche, because I met him soon after that visit. But I remember first learning about Dzogchen, not from my teachers, but from other students, which was kind of horrible. I kept hearing the term. I questioned; I tried to find out what it was. I tried to read some books. I asked my teachers, and His Holiness particularly said, "Soon I'll give you plenty of explanation so you will understand." And I questioned. Actually I didn't question His Holiness, but I questioned Gyaltrul Rinpoche, " Why is it then that some people are talking about Dzogchen, but His Holiness seems to be holding back on Dzogchen." And at that time Gyaltrul Rinpoche told me, "Well, you should ask him directly; but from the conversations I've had with him, Americans are not ready for Dzogchen. He says that they are, you know, too prideful, too arrogant. They don't really understand the benefit. It would be like throwing something precious on the ground where it can't be used, for instance, like a seed. You would want to throw it into fertile ground or put it into fertile ground. You wouldn't want to put it on, you know, a highway where it's never going to sprout."
So that was the explanation I got, and I was satisfied with that. But then later on I kept seeing that more and more, particularly in Dudjom Rinpoche's lineage, they were always talking about Dzogchen this and Dzogchen that. And if you didn't know Dzogchen, they thought you were a little silly. You know, they didn't think you were quite there. So I persisted in trying to find out. And His Holiness reiterated again and again,   "You have to get the preliminaries. You have to build a foundation. Americans are not ready." For quite a number of years, even though His Holiness returned here many times, he did not want to give out Dzogchen. And it was like that until he set up the summer program in New York where you could go Shedra style—step by step, stage by stage, from one level to the other. When he did that, he kind of reversed his direction in a sense, because he was real hesitant to give Dzogchen and really held back for a long time. And then suddenly he was offering it; and I remember thinking, 'Well, students will have to go stage by stage no matter what.' You know, they'll have to do like in India where if a student wants to go to level 3, he has to graduate from level 2. That sort of thing.
And then I heard that His Holiness had totally opened it up where he left it to the student in conference with the teacher there to decide what practice, to say what practice they had accomplished and what they had done. And if you receive Year 2 the year before, you could always go on to Year 3 unless you were having terrible obstacles. You could always go on to Year 3, and then the next. It's kind of like the "No child left behind." No Dharma student left behind here. I remember at that time being completely blown away by that. I was so completely blown away because it was such a reversal for him, such a change.  And I tried to seek the reason for that. His Holiness had switched his tone so thoroughly. He was saying, "Not much time left."  And, of course, that scared me. I thought he meant for him. "No, it's not like that," he said. "No, not much time left for sentient beings."
And so, that was his decision. He is peerless. There is no lama like him. There is no lama that can top him in any way. He is extraordinary. He is a living Buddha. I mean he is extremely orthodox and yet extremely flexible, an unbelievable combination,  because with orthodoxy comes dogma and rigidity. He is fully qualified and fully able to be the head of his lineage and to steer the course of this great ship, the Buddhadharma. Yet, he is completely flexible.
Copyright © Jetsunma Ahkon Norbu Lhamo All rights reserved