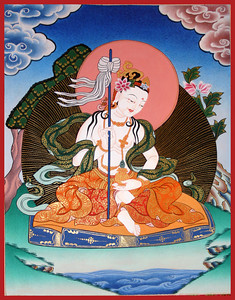 A Supplication-Longevity Prayer to Jetsunma Ahkön Lhamo
HRI:
KHACHÖD  SHING  NA  DORJE  PAGMO  DANG
In the realm of Khachod, she is Vajra Varahi,
ZAHOR  YUL  DU LHACHAM  MANDARA
In the country of Zahor, the consort Mandarawa,
BÖD  KYI  TSUNMO  AH  KAR  SALI   DRÖN
In Tibet Queen Ahkartsayi-drOn,
LABDRÖN  SEIMO  LHADUL  CHOKYI  DRÖN
The daughter of Machig Labdron, Ladul Chokyi Dron and
KHAM  CHOG  AHKÖN  CHANGCHUB  LHAMO  YI
Ahkon Changchub Lhamo of Kham.
YANG  TRUL  AHR'I  KHANDRO  JETSUN  MA'I
Now reincarnated as the American dakini Jetsunma,
KU  TSE'I  GAL  KYEN  BARCHAD  YING  SU  SOL
May the nonconducive circumstances and obstacles to your life
dissolve in the sphere of reality.
PHOMED  TAG  PA  TEN  PA'I   NGO  WOR  SHUG
Remaining firm in the essence of authentic stable presence,
GONG  PA  RANG  SHAR  CHOKYI  KHOR  LO  KOR
Turn the dharma wheel of self-originating enlightened awareness!
PEDMA'I  RANG  LUG  DZIN  PA'I  CHO  TSOG  DEI
May this dharma place of our own Lotus Family tradition prevail
DZAM  LING  SA  YI  KYÖN  GANG  GYEI  GYUR  CHIG
Throughout this world of Jambhudvipa
Samaya ku sung tug kyi gya
Samaya sealed with enlightened body, speech and mind.
This is a mind revelation of Orgyen Kusum Lingpa