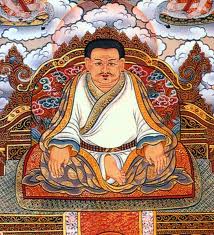 The following is respectfully quoted from "Treasury of Knowledge" by Jamgön Kongtrul:
As was said by the great learned adept Prajńāraśmi:
Prophesied by the Victor, the lord of beings in the snowy land,
[Who taught] exclusively the single doctrine of the full intention
For his Royal Highness the ruler,
Is the second Teacher in these snowy ranges.
The great editor-translator Bagor Vairocana,
The heir of the victors, Upāsaka Dromtön,
The great scholar-adept Khyungpo Naljor,
The great bilingual Lama Drokmi,
The mighty yogin, honorable lord Marpa,
The Indian Dampa who dwells on levels of attainment,
The translator Gyijo, and the scholar-adept Orgyenpa
Are the eight great pillars that upheld the practice lineages in the North.
Coming perfectly from the glorious Buddha Vajradhara,
Eight great pillars of practice lineages in the snowy region
Are the legacy of former adepts.
Those who desire freedom should follow their paths.