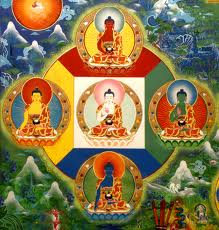 The following is an excerpt from a teaching by Jetsunma Ahkon Lhamo called "Tools to Deepen Your Practice"
All the practices, no matter what they look like or sound like or seem like, are heading in that direction of gradually awakening more and more to the awareness of the sphere of truth.  Wisdom is then the accomplishment of a state of such non-attachment that one realizes the emptiness of phenomena by simply [Jetsunma effortlessly and blissfully breathes out, her eyes and body completely relaxing].  I don't know how else to describe it except to just show you that posture.  Just…[Jetsunma once again breathes out as noted above].
Because the same as your touch is bliss.  The same as your smell is bliss.  The same as your tongue is bliss.  How does it happen then that we're so darned uncomfortable?  How does it happen then, according to the Buddha's teachings, that so many sentient beings are revolving so helplessly in samsara, so lost, so unable to understand how to understand, or how to awaken, or even how to live virtuously so that in the future they'll be happy?  How does this all happen?
Lord Buddha said it during the course of his actual physical life, when he said, "All suffering arises from desire."  So while you can say that the fundamental space of the five lights is the same as the five primordial Dakinis, they are activity not separate from the Buddha nature.  And yet these five senses hold on to us. Well we think they do, although we did create them.  But with their grasping nature, they cause us, because we have the strong habitual tendency,  to constantly react and constantly react and act really neurotically because we don't understand.  To be neurotic is to not understand the situation and to act inappropriately repetitively.  That's pretty much us.  We do not understand the emptiness of self-nature and so we constantly act differently.
So, these five primordial Dakinis that are your senses and that someday you will awaken to are now—because we are clinging, because we have not renounced, because we believe in phenomena and we believe in the solidity of everything, and because we are really revolving in dualism—we would have to consider them like five nasty whores.  Because they trick us.  They seduce us.  They say to us, "Come and play with me and I will give you anything."   And when's the last time you got anything from a skanky whore. (laughter)  [Jetsunma: I did not say that!"]  Our five senses actually keep us in a constant state of inflammation, because while we're grasping to the solidity of phenomena, we're constantly reacting.  While we're constantly reacting, we're constantly acting neurotically, out of accordance with the nature of reality.  And so we're being tricked, seduced.
The senses have many tricks. As front runners for our consciousness of duality, they like to trick us by building us up. You know, we can see and hear things that make us feel very proud and make us feel as though we are worthy of praise. You know, we can arrange phenomena any way we want.  That's the amazing thing about it.  And it can become very seductive.  We can absolutely crap out on our practice and yet with our five senses, we can manage to create in our consciousness of duality a scenario in which we're looking pretty good.  We can wear the right clothes and have the right beads, and you know we can look pretty good.  And so that's the deceptive nature of the five senses.
How difficult it is to understand that that which helps us negotiate around is actually the very nature of bliss.  How to understand that the opposite side of the very clinging that we do so tightly that prevents us from awakening to the primordial wisdom state,  is liberation?  Well, that's wisdom and that is the kind of wisdom that we strive for as we practice.
Copyright © Jetsunma Ahkon Norbu Lhamo All rights reserved