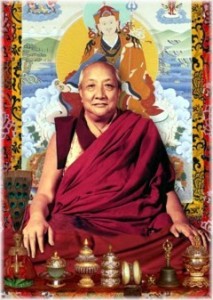 The following is respectfully quoted from "The Collected Works of Dilgo Khyentse Rinpoche" published by Shambhala Publications
A Brief Biography of Dilgo Khyentse Rinpoche by Tulku Thondup:
Kyabje Dilgo Khyentse Rinpoche Tashi Paljor (1910-1991) was one of the few great lineage holders, writer, teachers, and transmiters of teachings and powers of Nyingma tantras in general and Longchen Nyingthig in particular who reached numerous disciples in Tibet, India, Nepal, Bhutan and the West.
He is also known as Gyurme Thekchok Tenpe Gyaltsen, Jigme Khyentse Özer, and Rabsel Dawa.
He was born on the thirteenth of the fourth month of the Iron Dog year of the fifteenth Rabjung (1910) in the family of Dilgo, a minister (nyerchen) of the king of Dege in the Nyö clan in Dan Valley. His father was Tashi Tsering. It was the very day that the great master Mipham Namgyal and his disciples were performing the feast ceremony at the completion of his one-and-a-half month teaching on his Commentary on Kalachakra at Dilgo. Mipham immediately gave pills of Sarasvati, the female Buddha of wisdom, with the sacred letters DHIH and HRIH to the baby to eat even before tasting his mother's milk. About a month after the birth, Mipham gave empowerments for purification and longevity and named him Tashi Paljor. Since then until Mipham died at the beginning of 1912, Khyentse was given blessed substances continuously.
When he was only four months old, Ngor Pönlop Loter Wangpo recognized him as the tulku of Khyentse Wangpo. At the time of the death of Mipham, Shechen Gyaltsap Pema Namgyal (1871-1926) saw him and asked the family to give him to Shechen.
At the age of six, he was accidentally burned badly in a fire and was seriously ill for about six months, which caused him to take ordination as a novice.
When he was fifteen, Gyaltsap recognized him as a tulku of Khyentse Wangpo, enthroned him at Shechen Monastery, and named him Gyurme Thekchok Tenpe Gyaltsen. He also gave him numerous transmissions, including those of Dam-ngagk Dzö and Nyingthig Yabzhi. From Khenpo Pema Losal of Dzogchen he received transmission of Longchen Nyingthig. From Adzom Drukpa, he received teachings on Longchen Nyingthig Ngöndro.
With Khenpo Zhephen Chökyi Nangwa (Zhen-ga) of Dzogchen, Khenpo Thubten Chöpel (Thupga) of Changma hermitage, Dza Mura Asanga, Abhidharma, Yönten Dzö, the commentaries of Guhyagarbha-mayajala-tantra, and many others. Khenpo Thugpa recognized him as the tulku of Önpo Tenzin Norbu (Tenli).
Then from Khyentse Chökyi Lodrö he received the transmission of Sakya, Kagyu, Geluk and Nyingma teachings, including Rinchen Terdzö, Nyingthig Yahzhi, Longchen Nyingthig, and Lama Gongdu. From Khenpo Tendzin Dargye of Shechen he received transmission of the nine volumes of Jigme Lingpa. From Shechen Kongtrul (1901-1959) he received transmissions of the thirteen volumes of Minling cycle. He received teachings of all the Buddhist traditions of Tibet from over seventy teachers. Among them, Shechen Gyaltsap and Khyentse Chökyi Lodrö were his principle teachers.
Starting from the age of eighteen, for twelve years he stayed in solitary places and practiced various teachings, including Three-Root Sadhanas of Minling Terchen and Lonchen Nyingthig.
Throughout his life he dedicated himself to giving teachings and transmissions to all, whoever came to receive them. He wrote that by the age of sixty-four, he had given empowerments of Nyingthig Yabzhi and Longchen Nyingthig over tend times. From the age of forty till eighty-two he gave discourses on Chokchu Münsel, the commentary on Guhyagarbha by Longchen Rabjam at least once a year, and gave extensive commentaries on Jigme Lingpa's Yönten Dzö. Among countless other teachings, he gave five times the transmission of the Rinchen Terdzö, four times those of the Nyingma Kama, and thrice that of Dam-ngak Dzö, and twice that of Kanjur.
Rinpoche and his consort, Khandro Lhamo, had two daughters. His daughter Chime's son is the seventh Shechen Rabjam.
At the invitation of the royal family of Bhutan, he spent years in Bhutan teaching and transmitting the teachings.
Since the early 1960's, he single handedly maintained and propagated the unique nonsectarian tradition of Khyentses, and tirelessly with the continuity of a stream he spread the teachings by traveling, teaching, practicing, and building monuments without any pause, for the sake of Dharma and people.
In 1980 he built Shechen Dargye Ling Monastery (a name he took from his monastery in Tibet) at Bodhnath in Nepal, an elaborate complex with over two hundred monk-students. In 1988 he established a shedra at the new monastery, where monks are studying scholarly texts.
Starting in 1975, he visited many countries in the West many times and taught various levels of teachings and transmissions. Also he established Tekchok Ösal Chöling, a Dharma center in France. He visited Tibet three times from exile to teach and to help in rebuilding the monasteries and the faith in his homeland.
He conferred on the fourteenth Dalai Lama many empowerments and teachings on the commentaries of Guhyagarbha and Yönten Dzö and oral teachings of Dzogpa Chenpo combined with teachings on Yeshe Lama.
He discovered many teachings and sadhanas as terma and wrote many scholarly texts and commentaries on various subjects, totaling twenty-three volumes. Among his writings on Longchen Nyingthig are a commentary on Palchen Düpa and Wangki Chokdrik.
At the age of eighty-one, at three A.M. on the twentieth of the eighth month of the Iron Sheep year (September 28, 1991, his enlightened mind merged in to the ultimate openness at a hospital in Thimbu, the capital of Bhutan. Since then, his monastery in Nepal has been presided over by his Dharma heir and grandson, Rabjam Rinpoche, Gyurme Chökyi Senge.
He was one of the greatest learned and accomplished masters of Tibet of our age. He was tall and giant. When he was among other masters, he stood like a mountain in the midst of hills or shone as the moon among stars, not because of his physical prominence, but because of the breadth of his scholarship and depth of his saintliness. When he gave teachings, it was like the flow of a river, with hardly any pause. If strangers heard his lectures, their first impression might be that he was reading a beautiful text from memory, as the words of his talks were poetry, his grammar was perfect, and the meaning was profound.
Another most astonishing feature was his memory. He remembered not only scholarly and liturgical texts and details about his teachers and friends, but also those people whom he had seen only once years earlier.
His kindness was boundless, and there was room for everybody. Whenever I had an audience, he gave me the feeling that there was a place for me reserved in his vast mind. If you watched carefully, you got the feeling that he was always in the meditative or realized wisdom of openness and reaching out to people with the power of compassion, love, and directness, without any alteration.
He practically held the transmissions of all the Buddhist teachings of Tibet, but was constantly searching for additional transmissions, no matter how minor they might be. He had a huge library collection, but never stopped looking for even a page of rare writing. He was also immensely loyal.
In his last trip from Bhutan to Kalimpong, instead of flying he insisted on making the arduous journey by car in order to see an old disciple of his on the way. While that effort might have exhausted the last drops of his physical strength, it would have been his joy and fulfillment, an act of compassion.
Urgyen Tenzin Jigme Lhundrup (b.1993), the grandson of Tulku Urgyen Rinpoche (1919-1996) and the son of Kela Chokling Rinpoche and Dechen Paldron of Terdhe, has been enthroned as the reincarnation of Dilgo Khyentse Rinpoche.
Kyabje Dilgo Khyentse Rinpoche was one of the great Lamas who recognized Ahkon Lhamo Rinpoche