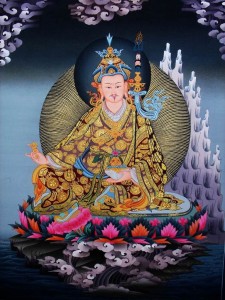 The following is an excerpt from a teaching by Jetsunma Ahkon Lhamo called "AA & Buddhism"
The next step, in both the Buddhadharma and in addiction, is to take refuge in a higher power. Now, in alcohol addiction, as I understand it, one takes refuge, in a sense, in one's sponsor, who is no longer under the influence of the drug and who has been the same route, as the Buddha has done (although I don't think most of them are Buddhas to tell you the truth), but as the Buddha has done, crossed the ocean of suffering in a boat that works. That's the relationship. And that's how we see our gurus. Basically it's not a personality cult. They have crossed the ocean of suffering in a boat that works. It's the same thing with your sponsor in alcoholism. They have crossed that ocean of suffering in a boat that works. So you take refuge in them, and you take refuge in the system, or the teaching. And that's what you do. You also in Alcoholics Anonymous would take refuge in God, if you believed in God; or Jesus if you felt yourself to be a Christian; or again, if you're a Buddhist, you would take refuge in the Buddha's enlightened mind and in your guru. So it's like that. And there, they are very, very similar.
And then the rebuilding starts to come from that. The recognition of the fault of cyclic existence, the fault of your addiction, the recognition of the horrible bottomed-out condition that we find ourselves in both applying to samsara and to the addiction; and the taking refuge and then day-by-day working it through in a very real, hands-on, cut-to-the-bone way. That's really basically, and of course this is the cereal box-top version, but that is basically the Buddha's teaching. The Buddha's teaching is about giving you a workable model or a workable vehicle that you can work through and actually get from one place to another. It's very real and it's very not flaky or pie-in-the-sky. One of my biggest arguments with a lot of religious systems that I've seen is that there's no way to make it work. There's no applicable technology, and it's too esoteric, too pie-in-the-sky. Now certainly in Buddhism, there is definitely esoteric philosophy. There is definitely the more profound view that one has. But the basis of the practice is, in fact, working through—applying the technology to solve the problem. And it is that: It is a model, a technology, that solves the problem.
The good news is that you can get somewhere with it. You can actually accomplish something that you may not have been able to accomplish before. Isn't it scary that there are so many things in our lives that we can actually be caught up in and not be able to accomplish? And that has happened to us, hasn't it? I mean, how many people amongst us,… Yourselves, think about yourselves. Have you been addicted to anger? That constant anger that accompanies us when we constantly have hostility, anger, hatred really. Do you have anger every day? Then you're an anger addict. Have you ever decided you're not going to be angry anymore? Have you tried that? Ha, ha, ha, ha, ha! Wasn't that a funny day! So you're an anger addict and you find yourself in the same position. And when your anger gets just ugly enough and you begin to see the playback from it, maybe, maybe, you'll find yourself in a position where you can change something. What about your lust and grasping? Do you have lust and grasping every day? Then you're a lust and grasping addict. That's the truth! I didn't make this up. You're a lust and grasping addict. Are you needy? Are you needy? Then you're a needy addict! It's not different. You have to think like that.
Copyright © Jetsunma Ahkon Norbu Lhamo All rights reserved