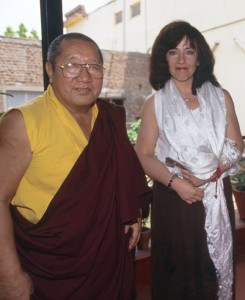 The following is respectfully quoted from "Reborn in the West" by Vicki Mackenzie:
After Penor Rinpoche had left, the group dwelt on all that had happened and what he had said. Dutifully they began looking for a property, and sure enough, they found a beautiful place which would suit their purposes perfectly. It had white pillars all along the front. But the price was astronomical. Scraping together whatever money they could, and taking out a huge mortgage (which now necessitates many ingenious fund-raising schemes), they bought what is now KPC and established what over five years later has become the largest ordained Tibetan Buddhist community in the USA. Every Sunday over 120 people came here from the surrounding area to hear Jetsunma's teachings.
At this stage Jetsunma still didn't know precisely who she was. That was still to come.
A year after Penor Rinpoche's visit Jetsunma felt the urge to see again the small, round man who had come into her life and touched her so deeply. She decided to go to India, to his monastery in Bylakuppe in Karnataka state. For the girl from Brooklyn who had never set foot outside the USA, landing in Bombay with its chaos, colour and poverty was merely a prelude for the greater revelation that was to follow.
Facing Penor Rinpoche on his own territory, she said she wanted to take the bodhisattva vows. This is the ceremony in which you formally promise to dedicate your life to the well-being of others. She asked if he would give her a spiritual name, as was the custom at such an occasion.
'When the time is right,' replied Penor Rinpoche.
'When will the time be right?' pushed Jetsunma, with typical Western impatience.
'I'll give it to you when the right day comes,' continued Penor Rinpoche.
'When is the right day going to come?' persisted Jetsunma, not giving up.
'When I say so,' retorted Penor Rinpoche firmly.
Jetsunma gave up.
One day, when the moon was in a particular place in the heavens, Penor Rinpoche called her to him and announced: 'Now I am ready to give you your name.'
He then wrote out her spiritual name on a piece of paper, rolled it up into a scroll, put his personal seal on it, then handed it to her with the white katag (scarf) of respect wrapped around it. 'That's your name–Ahkön Norbu Lhamo,' he said.
There was no apocalyptic vision, not instant flashback to another time, another place, another body. There wasn't even shock or surprise. Just a sense of intense familiarity.
'I experienced serious dejà vu,' was how Jetsunma recalls the occasion. 'I felt a strong connection to that name. I asked him to say it again. It was like milk to my ears.'
Through his translator he then uttered the monumental words: 'I now recognize you as the sister of Kunzang Sherab. Her name was Ahkön Lhamo. In that life she and Kunzang Sherab co-founded the Palyul tradition. I recognize you as her incarnation.'
And in those few simple sentences Penor Rinpoche made sense of the extraordinary life that Jetsunma had teched out for herself and the otherwise inexplicable abilities she possessed. This, at last, was the official explanation of how a woman with no Buddhist training whatsoever, no books on Tibetan Buddhism, no teacher, no outward example to follow, had been driven to enter years of strict meditation by herself and to emerge with not only profound wisdom but also the wish and the ability to help others fulfill their spiritual potential.