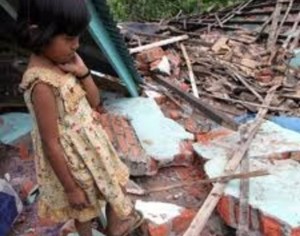 The following is respectfully quoted from "What Makes You Not Buddhist" by Dzongsar Jamyang Khyentse Rinpoche:
Two thousand five-hundred thirty-eight years after Siddhartha walked out the palace door–at the time of year when many millions of people are celebrating, making merry, and anticipating a fresh start, the time to remember God for some, the time to take advantage of discount sales for others–a catastrophic tsunami shook the world. Even the most coldhearted of us gasped in horror. As the story unfolded on television, some of us wished that Orson Wells would interrupt to announce that it was all fabrication, or that Spiderman would sweep down to save the day.
There is no doubt that Prince Siddhartha's heart would have broken to see the tsunami victims washed ashore. But his heart would have been even more broken by the fact that we were taken by surprise, proof of our constant denial of impermanence. This planet is made of volatile magma. Every land mass–Australia, Taiwan, the Americas–is like dew, about to drop from the grass. Yet construction of skyscrapers and tunnels never stops. Our insatiable deforestation for the sake of disposable chopsticks and junk mail only invites impermanence to act more quickly. It should not surprise us to see signs of the end of any given phenomenon, but we are very difficult to convince.
Yet even after a devastating reminder like the tsunami, the death and devastation will soon be camouflaged and forgotten. Luxurious resorts will be erected on the very spot where families came to identify the corpses of their loved ones. The people of the world will continue to be caught up in compounding and fabricating reality with hopes of achieving long-lasting happiness. Wishing for "happily ever after" is nothing more than a desire for permanence in disguise. Fabricating concepts such as "eternal love," "everlasting happiness," and "salvation" generates more evidence of impermanence. Our intention and the result are at odds. We intend to establish ourselves and our world, but we forget that the corrosion begins as soon as creation begins. What we aim for is not decay, but what we do leads directly to decay.
At the very least, Buddha advised, we must try to keep the concept of impermanence in mind and not knowingly conceal it. By maintaining our awareness of assembled phenomena, we become of aware of interdependence. Recognizing interdependence, we recognize impermanence. And when we remember that things are impermanent, we are less likely to be enslaved by assumptions, rigid beliefs (both religious and secular), value systems, or blind faith. Such awareness prevents us from getting caught up in all kinds of personal, political, and relationship dramas. We begin to know that things are not entirely under our control and never will be, so there is no expectation for things to go according to our hopes and fears. There is no one to blame when things go wrong because there are countless causes and conditions to blame. We can direct this awareness from the farthest regions of our imaginations to subatomic levels. Even atoms cannot be trusted.