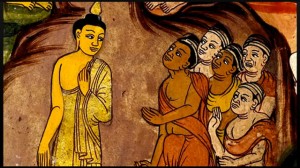 The following is an excerpt from a teaching by Jetsunma Ahkon Lhamo called "Take Control of Your Life"
Society will teach you wrongly until it understands your nature. The Buddha is the perfect teacher—the perfect one because he so thoroughly understood our nature. It is said that when a student came to him for the first time, and said, "I would like to become Buddhist," or "I would like to take teaching with you," he could see in an instant all the causes and conditions that brought that student to that moment where he faced the Buddha. He could see every cause and condition and could give each and every student the antidote necessary to provide the blessings for enlightenment.
That being the case, we can trust in the Buddha's teaching. He doesn't say, "You're a bag of chemicals. Now you're breathing. So good, go get a job. Make yourself happy. Have a chicken in your pot, or a pot with some chicken". I don't know…" Have a drink on Friday nights."—whatever it is that makes people happy. He doesn't say, "Follow in your culture." He tears the veil apart and he says, "Based on your nature, this is what must be done. Based on your path, this is what must be done." And there are as many methods in the Buddhadharma as there are sentient beings to follow them.
Copyright © Jetsunma Ahkon Norbu Lhamo All rights reserved