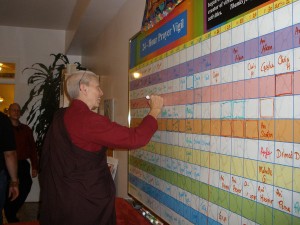 The following is an excerpt from a teaching by Jetsunma Ahkon Lhamo called "Take Control of Your Life"
We have an amazing thing here.  We have an opportunity to participate in something that you don't have almost anywhere else—I don't know of anywhere else—and that's the 24-hour a day prayer vigil.  I don't know of another place, and there may be one, but I don't know of another place where prayer for sentient beings goes on 24hours a day.  This place is like a giant merit machine.  To participate in that and the satisfaction of knowing that you have participated somehow in alleviating the suffering of the world is a thing that we should contemplate with joy.  And we're beginning to win over other people.  Apparently, there are some non-Buddhist preachers locally that want to know how we did it.  How did we motivate our people to practice 24-hour a day prayer for all beings?
Well, we taught what the Buddha taught: that all beings are equal in their nature, that they are all suffering horribly, that they all wish to be happy, that enlightenment is the [end] to suffering, and here is the method.  So we have the means by which to understand how to change the worldnot only how to change our personal world, but the world at large. Can you imagine if we had even a dozen major cities around the world with this same effort?
Can you imagine?  Stupas and 24-hour a day prayer.  This is my dream, my hope.  That the field of joyful practice, virtuous activity and enlightenment will swallow up the world and bring us all blissful contentment. That's what I want to do.  I want to make stupas everywhere.  I want to make prayer vigils everywhere.  I know you want to help.  I know you want to join me.  It's the only game in town.  There's nothing else that you can do that will bring so much joy.  Nothing you can eat, drink, have, do, that will bring you that much happiness.
Here's where we start, right here, to change our lives into vehicles that bring happiness to other beings, to practice every day to attain a virtuous peaceful calm mind and to offer that as food and drink to those who are so locked in their own phenomena and confusion that they don't know that they are.  To offer our practice as an eternal fountain of benefit, as eternal as this world anyway, for all the beings of this earth and for all the three thousand myriads of universes, because we should be impartial like the sun.  We should pray for all beings equally.
Copyright © Jetsunma Ahkon Norbu Lhamo All rights reserved