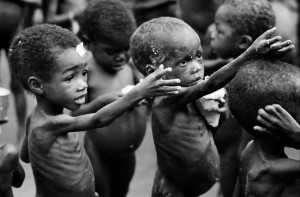 The following is an excerpt from a teaching by Jetsunma Ahkon Lhamo called "Bodhicitta"
 We should begin to think of these teachings that the Buddha has given us in such a way that we awaken within ourselves a real caring for the well-being of sentient beings. If you saw a tiny rabbit caught in a trap, and its leg was bleeding and bruised, I know that you would open the trap and let the rabbit be free. If you saw a child that was really hungry, hopefully you would be not in the circumstance where you would make all kinds of judgments about that hunger, such as, if you looked at a bum who was drinking alcohol or something like that where your discursive mind got in the way. But if you just looked at a child, just a child, a helpless child, who was hungry; if you had food on your plate, I know that you would give some to that child. In this way, you should think of other sentient beings and begin to, through utilizing that kind of thought, understand their plight. It is most necessary to understand their plight, and through that begin to polish away the dirt and the filth that covers that precious jewel which is our inherent nature. 
We should take a hold of ourselves in such a way that we do not feel separate from Bodhicitta as though it were a thing that we have to get, but instead begin to develop the understanding that ultimately it is the awakened state. Because of supreme awakening, we will understand fully the faults of cyclic existence. We will understand absolutely the awakening that is the cessation of all suffering and be naturally and completely motivated to bring about the end of suffering for all sentient beings, because at the same time, we will understand that the self that we cling to, the one that causes us to think only of selfish concern, this self is also illusory.
Having realized that, there is literally nothing to do other than to emanate in a form or to engage in miraculous activity that brings about the liberation of all sentient beings. So this activity is not something we do when we get kind. It isn't something that we collect as though it were wisdom. It is the natural state of awakening.
Copyright © Jetsunma Ahkon Norbu Lhamo All rights reserved