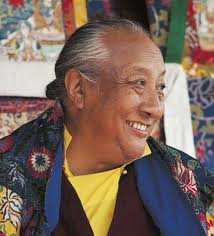 The following is respectfully quoted from "Enlightened Courage" by His Holiness Dilgo Khyentse Rinpoche:
If I do not give away
My happiness for others' pain,
Buddhahood will never be attained.
And even in samsara, joy will fly from me.
Enlightenment will be ours when we are able to care for others as much as we now care for ourselves, and ignore ourselves to the same extent we now ignore others. Even if we had to remain in samsara, we should be free from sorrow. For as I have said, when the great Bodhisattvas gave away their heads and limbs, they felt no sadness at the loss of them.
Once, in one of his previous lifetimes, the Buddha was a universal monarch whose custom it was to give away his wealth without regret. He refused nothing to those who came to beg from him, and his fame spread far and wide. One day, a wicked brahmin beggar came before the king and addressed him, saying, "Great king, I am ugly to look upon, while you are very handsome; please give me your head." And the king agreed. Now his queens and ministers had been afraid that he might do this, and making hundreds of heads out of gold, silver, and precious stones, they offered them to the beggar.
"Take these heads," they pleaded. "Do not ask the king for his."
"Heads made of jewels are of no use to me," the beggar replied. "I want a human head." And he refused to take them.
Eventually they could no longer deter him from seeing the king.
The king said to him, "I have sons and daughters, queens, and a kingdom, but no attachment do I have for any of them. I will give you my head at the foot of the tsambaka tree in the garden. If I can give you my head today, I shall have completed the Bodhisattva act of giving my head for the thousandth time."
And so, at the foot of the tree, the king took off his clothes, tied his hair to a branch, and cut off his head. At that moment, darkness covered the earth, and from the sky came the sound of the gods weeping and lamenting so loudly that even human beings could hear them. The queens, princes, and ministers all fell speechless to the ground. Then Indra, the lord of the gods, appeared and said, "O king, you are a Bodhisattva and have even given away your head, but here I have the life restoring ambrosia of the gods. Let me anoint you with it and bring you back to life."
Now, the king was indeed a Bodhisattva, and even though his head had been cut off and sent away, his mind was still present, and he replied that he had no need of Indra's life-restoring ambrosia, for he could replace his head simply by the force of his own prayers.
Indra begged him to do so, and the king said: "If in all those thousand acts of giving my head away beneath the tsambaka tree there was nothing but the aim of benefiting others, unstained by any trace of self seeking–if I was without resentment or regret, then may my head be once again restored. But if regrets there were, or evil thoughts, or intentions not purely for the sake of others, then may my head remain cut off." No sooner had the king said this than there appeared on his shoulders a new head identical to the first, which had been taken away by the brahmin. Then all the queens, princes, and ministers rejoiced and administered the kingdom in accordance with the Dharma.
For those who can practice generosity like this, there is no suffering at all. Enlightened teachers, Bodhisattvas, come into the world to accomplish the welfare of beings, and even when they are ignored by people in the grip of desire, anger, and ignorance, who stir up obstacles and difficulties, the thought of giving up never occurs to them and they are totally without anger or resentment. As it is said:
To free yourself from harm
And others from their sufferings,
Give away yourself for others;
Guard others as you would protect yourself.