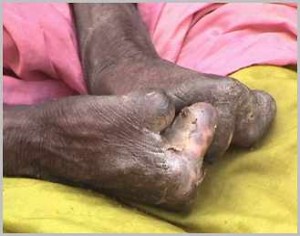 The following is an excerpt from a teaching by Jetsunma Ahkon Lhamo called "Faults of Cyclic Existence"
Today then I will talk about something that is necessary as a foundational understanding in order to begin the Buddhist path. In order to understand what the Buddha is talking about, in order in fact to begin to meditate or accomplish anything spiritual, on any level, there has to be, of course, a motivation. This motivation varies from culture to culture and certainly it varies from individual to individual.
I have stated this before and I will state it again. In third world countries there is a tremendous amount of very visible suffering. Of course, we have suffering here too. And I believe in my heart that the suffering is actually equal, but it is a different kind of suffering. Our suffering is not as visible. We are sophisticated and therefore we hide certain aspects of our culture. There are certain particular, very obvious forms of suffering that we traditionally put away and hide in institutions, or hide in certain parts of town that we never go to. There are certain ways in which we deal with suffering that third world countries do not have. In third world countries, and it really isn't fair but I don't want to spend too much time naming a specific situation, suffering is often seen very visibly on the streets. I remember when I went to India, landing in Bombay, and never having seen a case of leprosy in my life, suddenly seeing hundreds of people on the street with different degrees of leprosy, different levels of advancement—some without arms and legs scooting around on little carts, because leprosy had done away with their limbs, and others with just the beginnings of leprosy and open sores and different extremities beginning to show decay. Poverty is unbelievably evident. I am a little on the hefty side, as you may have noticed, and I remember being unbelievably ashamed of that when I saw that on the streets of Bombay, you could count everyone's ribs. It was completely unbelievable that hunger is so prevalent there and so much a part of society. The suffering of the lack of education, of ignorance, of hunger, of sickness, these are all very obvious and they are right there in front of us. People literally do lay down and die in the street. The suffering of the animals there, the bullocks that constantly have to, from dawn to night time, pull huge carts that are so much greater than their body weight. And seeing that is quite shocking because we don't have that here.
So in a culture like that when we look at the motivation to accomplish Dharma, it is very simply that the people in that culture do not wish to suffer anymore. They are very much aware that they are suffering. They are very much aware that this suffering is constantly with them. They are very much aware that it is completely possible to be reborn as a human being and still experience terrible suffering. They are very much aware that they don't have a sense of control; they feel that having been born into a certain situation there is really no way out. In America, we are taught from birth that there is a way out. We can take education or we can do one thing or another. If we really work hard, we can achieve the American dream. We can build a better mouse trap and sell it to the American public and become rich. And we can work for Amway or whatever it is that we do and have a geometrical progression into wealth. We always have that hope. But people in these cultures do not have that hope. They are trying to survive from day to day, and the tremendous amount of suffering that goes with that is very evident to them.
So when you bring to a culture such as that a philosophy such as the Buddha brought where he clearly taught that all sentient beings are trying to be happy. They wish to be happy, yet they do not have the means to accomplish happiness. In a culture like that, it is understood. When the Buddha teaches that all sentient beings are suffering and even if they feel temporary happiness, even if we are able to accomplish an entire life time of temporary happiness, that because we are involved in cyclic existence, and because it is cyclic that that happiness is impermanent. It is always coupled by the other side of the coin which is suffering; that, in cyclic existence, suffering is inescapable. In a culture like that it is clearly understood. It is very evident to them that there is always suffering. Even if we managed to get enough firewood, get enough food, and even store it for awhile and even have a little celebration and even if we lose ourselves temporarily in the phenomena of life, such as falling in love, getting married—all of the different things that bring us temporary joy—that still we are very much involved in suffering. That is evident there.
But here in our culture, I have found it personally very difficult to convince Westerners, Americans at least, that this is a good reason to practice. And I understand why this is. We are brought up with the idea that we don't have to suffer. We are brought up with the idea that here in America one need not suffer. Here in America the streets are paved with gold. Literally, there is a wonderful and golden opportunity. And if you are willing to buy a book, there is a book about how to have that opportunity. There are all kinds of books about how to have those opportunities. The sufferings that we have are very hidden. What they don't tell you in those books is that even if you get rich, even if you become popular with the opposite sex, even if you learn to make friends and influence people, even if you become politically powerful, even if you become well educated that these things do not bring ultimate happiness. Or what happiness that they do bring is very impermanent. That often the people who accomplish these things never feel a sense of fulfillment, never feel truly happy, never feel as though they had aced it, always feel a sense of longing and a kind of suffering that is very hard to describe. In fact there is another book that is written, the book that I know personally is Passages. It talks about different periods in one's life during which one traditionally breaks down, and breaks down because all of your life they told you, in these other books, that you could be happy doing these various things; and you could be happy if you were popular with the opposite sex, and you could be happy if you made lots of money, and you could be happy if you did all these things. But right around 35 or 38, somewhere around there, you discover that in fact you have done all these things and you are not happy.
And so it becomes traditional to break down at that time. So that is another book that we write. But we do it in such a crafty way that we don't even realize that this is a cyclic thing, that this is a constant event. That we constantly strive and work very hard and accomplish these things that seem as though they are going to be the answer; and then ultimately they are not the answer. Ultimately we continue to suffer, but the way that our society is structured these things are very hidden. So, for Americans, for Westerners, I have found that it is very hard to convince them of this. The expression that we use in the Buddhist tradition is hook, or hook of compassion. Sounds devious, I know. Americans are afraid of hooks. If you think of it as a hook of compassion, maybe you will be more comfortable. But the hook that seems to really work for Westerners is compassion.
Copyright © Jetsunma Ahkon Norbu Lhamo All rights reserved