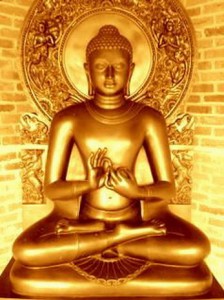 An excerpt from a teaching called How to Pray by Being by Jetsunma Ahkon Lhamo
As we realize that others need our help, we begin to heed their calls. We begin to turn to what is real, what is profound—the brilliance of the great bodhicitta. The great bodhicitta is the first movement from the void—from the absolute, uncontrived, undifferentiated spontaneously complete emptiness. Bodhicitta is the arising of the Buddha nature in a gossamer-thin, seemingly phenomenal, form. Bodhicitta contains all potential. It is the big "yes." Separate from nothing, containing all potential and all accomplishment, the great bodhicitta is the first movement of the absolute. Bodhicitta is also called compassion. Compassion is our nature.
We have deprived ourselves of the deliciousness, the comfort and the happiness of compassion for so long that the bodhicitta seems like something we have to work on—like an outsider that we have to bring into our home. How sad, because compassion is our nature. When we are self-absorbed, we are denying ourselves the nectar that is the first movement of our very nature. And so if the great bodhicitta is really the first appearance of any kind of phenomena, if it is the underlying reality of any phenomenon, then compassion is also our nature. In fact, compassion is the nature of the meanest little bug in the world. It is the nature of spiders and lions and tigers and bears—and everyone else too.
All sentient beings have that nature and yet they live in a state of sleeping. We, on the other hand, are practicing to be awake. We wonder, "How do I see the bodhicitta? How do I develop the unconstricted, uncontrived, non-dramatic, undecorated view?
© copyright Jetsunma Ahkon Lhamo all rights reserved