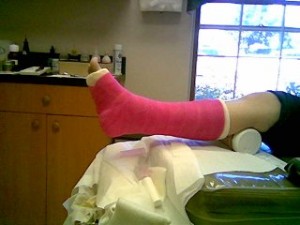 The following is an excerpt from a teaching by Jetsunma Ahkon Lhamo called "Entering the Path"
The thing to do when entering the path, in order to take responsibility and to stabilize your mind and your practice, is to begin to accumulate merit in a consistent and intelligent way.  That doesn't mean talk about it. That doesn't mean dress up for it, like, "I'm a Dharma practitioner and the first thing I need are coral beads because that's what she has." People do think like that when they come to the path, and it's a little silly. Just back off from that.
Think to yourself, "How can I accumulate virtue and merit? How can I stabilize my mind and my practice through providing the causes and the nourishment that I need?" You could for once be your own friend! Just for once give yourself the food, the nourishment, the fuel that you need. The way to do that is to accumulate virtue and merit through acts of generosity, through contemplation, through study, through providing a way for others to hear Dharma, through making offerings, through kindness, through following the instructions of your teacher.  Your teacher has given you methods to accumulate merit and virtue, so do them consistently in a calm and relaxed way. In this way, your first moving onto the path will be relatively painless.
One of the things that students experience when they first come onto the path is hidden body karma. You see, it's already there. Can you understand that concept? You already have this body karma. It will ripen anyway at some point. Better that it should ripen under the guidance and tutelage of your teacher and of the path.
Let's say that you have some body karma near the surface of your mind. Sometimes a person will come to the path and literally catch the flu or a disease, cut themselves, or maybe even break a leg, something like that. I've seen that happen. Usually it's not a big deal, but I've seen it happen. The thing to do then is to immediately turn the mind, in a relaxed way, toward accumulating virtue and merit rather than freaking out. Most people freak out. "I went to Dharma, and I broke my leg! Screech!" That's their intelligent response. Hey, you would have broken the leg anyway, maybe both legs, but at least you had some merit going there. So who knows what could have happened? The intelligent thing to do is to thank Guru Rinpoche for this blessing—a benign ripening that indicates to you what the condition of your present cause-and-effect relationships actually are—and for having been given the tool to work through this. So you begin to practice and accumulate merit.
Some people come to the path and they seem really, really nice. You think, "Isn't that a nice person! Such a nice person!" And then they're on the path maybe six months, and suddenly it's like they grow fangs and turn into something completely different. And you wonder whatever happened to that nice, easygoing person. They turn into something that looks like Freddy Krueger or something, I don't know. You know who Freddy Krueger is? He's that really scary guy. So they turn into somebody really, really horrible. Why is that ? Right underneath the surface of their mind, there was sort of a bag or a ball of ripening non-virtue that was going to come to the surface anyway.
It might have come in dribs and drabs and made them just periodically mean throughout the rest of their life, like Dr. Jekyll and Mr. Hyde. Or who knows? They might have put themself in a very wonderful situation and maybe – here's a hypothetical situation – gotten married and then turned into the nightmare on Elm Street. Who knows what could have happened? Who knows how it might have ripened? But sometimes it happens that a deep disturbance in the mind will simply come to the surface, and for a while, that person will not seem like themselves at all.
What do you think needs to happen then? If a big obstacle comes to the surface and ripens when you first meet the path, you can see how endangered you are, can't you? That's a terrible danger because if you're sick and your mind become disturbed, there's no telling what you'll do.  You have seen yourselves react in unpredictable ways. You think you know yourselves. Then you're faced with a situation in which you act completely unpredictably due to your emotions being really roused up. We all think we know how we're going to act, but then we see ourselves when we really get an emotional head of steam going.  We often act differently than we think we might have acted.
Well, if you have that kind of mental ripening when you first come to the path, that's the most dangerous obstacle of all because the mind changes. Being of clear mind and clear thought coming to the path, you might say, "Yes, I have earned this. This is the method. I wish to abandon samsara. I wish to do this for the sake of sentient beings." It sounds like pretty decent, logical and sound thinking to me. Then when the obstacle hits, your mind might be in a completely different place, and you might say, "I don't have to. I don't want to. I won't!" Your mind just changes, and a part of you that you hardly ever relate to, that you mostly suppress, comes out and takes over. I've seen it happen. It will simply take over. What should you do at that point? Once an obstacle like that has begun to ripen, it's very, very, very hard, particularly in the beginning when you're an infant on the path and unable to really utilize all the tools.
But I say to you that the best thing to do at that time is to take refuge in the Guru, in the Buddha, in the Dharma and in the Sangha with all your heart. Take refuge. In your own mind say, "These are impure qualities. Samsara is not perfect. Therefore I take refuge and wish to be free." Just like that. Hold on to that. Don't let go of that. It is precious and important and necessary.
Copyright © Jetsunma Ahkon Lhamo.  All rights reserved