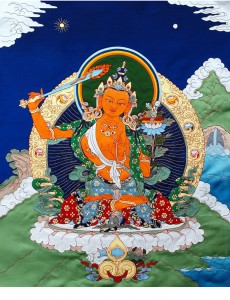 The following is an excerpt from a teaching by Jetsunma Ahkon Lhamo called "The Guru Is Your Diamond"
Many people, when they come to the Path, feel the connection with some particular deity. I know of one person that felt a very strong connection to Manjushri with his great sword cutting through ignorance. And yet that person did not practice proper Guru Yoga and understand that the nature that is Manjushri with the sword is the very nature that is our Root Guru, and that sword could be a word, a look, a piece of advice, some heart teaching—anything that cuts through the darkness of ignorance. Some of us can understand that and then others of us want to have our particular deity. You hear the pride in that, don't you? "I'm into Manjushri! He's the guy with the big sword. What a guy!" And yet, every Buddha that we can visualize, all of the peaceful and wrathful deities that naturally appear in the bardo and are part of our own nature and can be recognized, each one of them, has the complete and perfect qualities of all the Buddhas.
It's an amazing thing if you are attracted to some particular Buddha, like maybe Amitabha or Chenrezig or Tara. You might say, "Oh, I really love that deity." That's good. Cultivate that. But do not miss the step that Guru Rinpoche gave to us when he said, "This nature, the nature of one's teacher is unsurpassed by the Buddhas and Bodhisattvas of the ten directions." Why did he say that? To create confusion so that everyone in all our different places could look at our own particular Root Guru and say, "That's the best one!" No. That's crazy. That's just more ordinary thinking. But instead, by implication, we understand that what we must do is to recognize the intrinsic nature that appears as our Root Guru, the promise of Guru Rinpoche fulfilled. And if Guru Rinpoche said this was going to work, well it's going to work. So, Guru Yoga is like a rocketship. We depend on the accomplishment, the qualities and the nature that appear as our own Root Guru.
Early on in the relationship with our Root Teacher, we should practice thoughtful discrimination. That is to say, we should ask ourselves: Has this teacher really given rise to the Great Bodhichitta? Do we see that Bodhichitta is present here? Ok. Check that box. Got that one. Do we see that this teacher has the capacity to ripen my mind? Do I hear Dharma from this teacher? Check that one. Is this teacher considered qualified by peers of her/his/their lineage? Is this teacher properly recognized and considered properly an authority and a throne holder? Does this teacher have good qualities? Does this teacher have the ability to communicate? Let's see. What else? Does this teacher have an unbroken chain that connects us to the source of the blessing, which is Guru Rinpoche? You betcha!
We think through these things. And if you decide this teacher is not for me, then there is no harm in saying, "I'll keep looking." Maybe the connection is not quite right. So that's when you do your discriminating and your thinking. But once you've decided—check boxes are all full, looks good to me and I have that feeling, I feel that connection, something is wiggling in my little heart chakra…After that point, you must put yourself on a diet, because after that point, there's no more judgment.
Once we make the judgment and discrimination necessary and we have that undeniable sense that one has entered the Path and met one's Root Guru, after that point, judgment should be put aside. Then the ball is in your court. Not that the teacher doesn't have a responsibility. I promise you, the teacher knows their responsibility, if they are worth their weight in salt. That teacher not only knows their responsibility but also knows their students; and a good teacher will be willing to say to a student, "Keep looking. Go see this Lama here or that Lama there. See what you think." Once the teacher has accepted the student, and the student has accepted the teacher, then that bond becomes more intimate than any marriage, any mother and child relationship, any friendship. It's hard to understand that because we think, "Oh, teacher, I only see you every so often, but I see my spouse and my children everyday. Therefore, it must be more intimate."
However, I will tell you that in order for you to be here, to be accepted as my student and to accept me as well,for that karma to mesh in that particular way, we must have known each other many times, many times. The relationship between student and teacher is not a relationship that ends in one lifetime. If we take vows together, I am responsible for you always. So long as you remain in the world and have not yet accomplished liberation, I must appear again in samsara in order to liberate you. I must. Even if there's only one. Just you. Your teacher will return for you. Under any conditions.
Copyright © Jetsunma Ahkon Norbu Lhamo All rights reserved