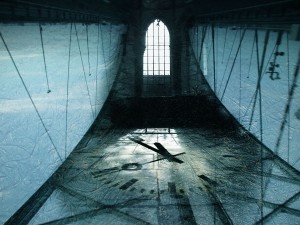 How can it be that we've had so little result?  Well it isn't true that we've had no result. We have had temporary happiness. We've all had that. Probably we feel pretty good right now. Probably we felt all right when we got up this morning. But we feel differently every day, and really every moment. And sometimes we are even afraid to think that we're really happy, because we know that right behind that happiness, right behind that, is another mood change. And you know that it's not lasting.
How we can have managed to continue in such an effortful way? How is it that we maintain this extreme effortfulness? And what's the answer? What should we do? First of all, we have to begin to cultivate some understanding. According to the Buddha's teaching, every condition that we experience in our lives, including the most subtle inner conditions, that is to say, our own impressions and feelings and subtle inner posturing—that very, very subtle stuff that seems so wispy, seems to change all the time with every catalyst that appears in our lives—from that kind of subtle condition to the most seemingly permanent, gross, outer condition, such as the house we live in, the nation that we live in, the community that we live in, the world that we live in, the Buddha teaches us that every one of those conditions that we experience actually arises through the interdependence of cause and effect relationships. Every condition with no exception. Even the condition of how you appear physically. Now, of course you have some control in that matter. You can diet and become thin. You can put on makeup and become better looking. You can take off makeup and become either better or worse looking depending on how well you apply makeup. You can gain weight. You can do different kinds of juggling in order to make yourself appear more attractive through wearing different clothing, or what have you. But there are some things about which it seems that we have no control. For instance, the genetic tendency of our body to be in a certain way. Some people are shorter than others; some are taller. Some have a tendency towards a more squat body form; and others have a tendency towards a very lanky body form. These things seem to be beyond our control. We can look at our parents and our grandparents, and it seems as though we have the same genetic structure as them. It seems as though we have not much control over that. But, according to the Buddha, even such things as those that appear to be handed to us from the time of our birth, even such things as genetic predisposition, these are the result of karma.
What are the conditions of living? Do we live in a beautiful house? Do we live in a happy and harmonious family situation? Do we own property? Are we impoverished? What are the conditions of our lives? It seems we have control over some of them. There are many books out now that tell us we can all become millionaires  through a certain amount of effort if you follow this very simple ten point program starting with the investment of a few thousand dollars. And for some people I'm sure that kind of program has worked. And yet, there are some conditions in our lives that are seemingly unbeatable.
For instance, what if,  personality-wise, we don't seem to have that certain mindset that permits us to engage in that kind of activity? And then again, what if we don't want to? Some feel chronically defeated and have always felt so, and they never take aggressive moves towards gaining whatever it is that they want. But other people seem to have to do nothing and happiness comes to them, or prosperity comes to them. There are so many conditions in our lives that seem controllable and they're mixed in with conditions that seem uncontrollable. How are we to understand that?
Well, the Buddha teaches us that we have at best a very partial, very minimal understanding of cause and effect relationships. It's actually quite minimal. And the reason why is that there is very little cause and effect unfolding that we can actually see. The Buddha tells us that we've lived many more than one lifetime. Therefore, if we've lived a hundred years already, we have only one tiny, tiny window of time in which to judge our experience. But that window of time actually has a very exacting beginning and a very exacting ending; and it's very difficult to understand what has come before and what will come after. There are certain elements that we can view within that window of time, and we can gain some understanding. It has been my experience that usually as people mature and as they become older, they have gained enough life experience not to make certain kinds of mistakes again and again and again. Now, in some cases I think it might be that we're just too tired and old to make those mistakes again and again and again. But in other cases I think there's a true learning that has actually occurred, and I'm really not sure what the proportions are.
Copyright © Jetsunma Ahkon Lhamo.  All rights reserved