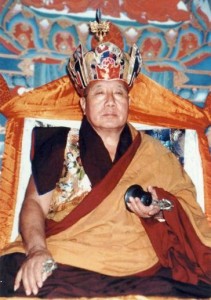 The following is an excerpt from a teaching by His Holiness Penor Rinpoche on Meditation, reprinted here with permission from Palyul Ling International:
In this world, as we were born as human beings, we need to have something beneficial that we can do. In general, we have some kind of activity by which to earn our livelihood, just to have something to eat and drink. Of course, not only human beings, but also animals know how to live their lives in this way. As we were born human, we can talk and understand language and meaning. That is the specific characteristic of a human being. So based on that we need to have some ultimate benefit that we can achieve within this lifetime.
Generally speaking, two main activity categories we can engage in: our normal worldly activities and then the Dharma activities. But the majority of the world's people become very busy with worldly activities rather than following some kind of spiritual practice. These worldly works or activities are based on one's capabilities and power and skill, and of these there are many different levels – some have more or better and some have less.
However, whatever worldly activities that we complete, whether or not they are good or meaningful, they will only endure for a few months or years. There is not anything within these activities that we can ultimately rely on. For example, from young childhood we pursue educational training, from first grade until graduation. For almost fifteen or twenty years we work very hard and study so that we can get a specific job. Then if through one's job one becomes more successful, then possibly in twenty or thirty years we consider that we have a better or happier life. And if during all that time, if we have a very pure and sincere mind in all these works, then of course there is some benefit which is known as virtuous action. But there are also those that have the qualifications to do these activities but who have so much ego or arrogance or pride that their works, even if completed, are not really beneficial in this lifetime.
So many human beings consider the benefit for their individual selves as the most important thing. The result is we are all re-cycled over and over in what is called Samsara or the cyclic existence.
We cannot really establish or find out how long we have been drifting about in Samsara or cyclic existence. No one can know for certain how many lives we have taken in this world – one hundred, one thousand, ten thousand, perhaps one million lifetimes. We cannot calculate the countless aeons of times we have been reborn in this world, in this Samsara.
Sometimes we were able to fulfill some of our wishes and sometimes we could not. For this life, from the time we have taken birth from our mother's womb until now, whatever our ages, we have been constantly thinking about our own benefit and how we can be more happy people. All of our education and financial developments are all just for one's own benefit. There is not anything left out that one has not thought of for one's own benefit.
However, whatever we do, fulfill or complete in this lifetime is mainly based on our Karma, the action, of what we have done in our many past lifetimes. One cannot complete one's every wish immediately because of the Law of Karma. Because have never developed their spiritual side, they mainly have deluded minds. So they are not able to understand the causes and conditions based on the Law of Karma. They can only think of what is happening today, and have no idea what is really going on. They don't have a deeper level of understanding of these spiritual practices and so they don't understand what is involved in past lifetimes and future lifetimes. It is because of their obscurations or ignorance that they don't have any clear understanding about the causes and conditions. They really don't know anything about the Law of Karma.
His Holiness Pema Norbu Rinpoche