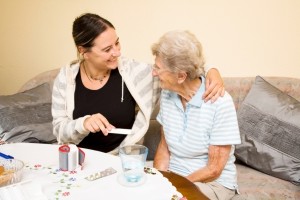 The following is an excerpt from a teaching by Jetsunma Ahkon Lhamo called "The Lama Never Leaves"
Lord Buddha's teachings are always reasonable and logical. He teaches us that, for instance, if we are lonely and unhappy, we should look to find the causes of that. He teaches us that causes are never outside. They seem to be, but they are never outside because actually we are living with our own karmic habitual tendencies and propensities. So if we are lonely and unhappy, we should look to the deeper causes. The deeper causes may be that in the past, whether in this lifetime or in some previous lifetime, we allowed the others around us to be unsupported and lonely and unhappy. Or perhaps we committed some profound non-virtue with our minds and so now, in our mind, we have the habit or the result of loneliness and unhappiness. Perhaps in the past, we caused someone mental suffering or mental affliction, and so now in the present, we find ourselves feeling that same mental affliction. But we can only remember since the time of our birth, or somewhat after that, and we don't know what the cause was really. It's hard to see. We have to go by the Buddha's teachings because Lord Buddha is that state of enlightenment which has the wisdom to see causes and results. So we are taught if we have certain results within our life, such as unhappiness and loneliness, we should look for deep causes If we can't find some reason in this lifetime for our loneliness and unhappiness, that is to say, that we ourselves have not brought about similar loneliness and unhappiness to others, then we should think that probably the cause has been in the deep past. So we must assume that in the past, we have caused some unhappiness to others.
Now, here we are on the path, and we are told to apply the antidote. I shouldn't leave that part out. And the antidote, of course, would be to do one's best to uphold the Bodhisattva Vow and to benefit others as strongly and as purposefully as we possibly can. Of course, as monks and nuns, we will do that within the context of Dharma activities. As lay people, hopefully, we will do that within the context of Dharma activities as well. Yet we also have many opportunities in our lives to be of benefit to others in ordinary but very special ways. Some of us are doctors or nurses or counselors or those who help others. So there are human ways to help others and there are extraordinary Dharma ways to help others, and we should apply that antidote.
One thing that not only I have noticed but practically every pop-psychologist that has arms to write a book with nowadays will tell you is that in doing for others, one becomes happy. Self-absorption and ego cherishing, only thinking about what you want and what you don't have, leads to further unhappiness and selfishness. So it's doing for others that actually brings up the spirit, and I personally know that this is true. I know that this is true.
Copyright © Jetsunma Ahkon Norbu Lhamo All rights reserved