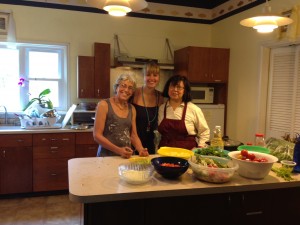 The following is an excerpt from a teaching by Jetsunma Ahkon Lhamo given at Palyul Ling Retreat 2012:
They say that I am a Dakini.  I'm not so sure but they say I am.  The Dakini has to do with the activity of the Buddhas.  And so that being the case, I feel it is my responsibility to try to bring some benefit in the activity way.  So I try to feed everybody – animals, people, and the birds outside my house.  Everybody knows that we spend a lot of money on feeding people and feeding beings.  And it is a happy thing to do.  It makes us all happy.  So many beings are fed.  And they are having what they need because of the kindness of His Holiness Penor Rinpoche, and what he taught me.  The precious bodhicitta, the nectar of kindness that is inherent in the dharma.  This is what I was taught, what I learned, and its what I practice.
We have a prison program also.  We like to forget people who have done something wrong and just throw them away, but we have a program where we can go and teach prisoners some dharma, because these men will die in prison.  And they will have no way to get any kind of help or straighten themselves out for a proper or good rebirth.  They don't know how to die well.  They have no teachings on Phowa.  It makes us sad, and so that being so said, we're able to go out and do these things.  And it is why KPC is always broke.  We don't have any money because we spend it on the needs of sentient beings, and I am very happy about that.  That makes it worth it to me.
In our food program there are many people who don't know how to cook the kind of food that we provide for them, because they are poor people and they are used to cheap food.  And so we have been trying to teach them how to cook lentils, and beans, and rice and things that are very nourishing.  We try to teach them how to make protein, and how to eat well so that they feel better.  This is a totally new thing for them.  They don't know how to be healthy, and their children don't know how to be healthy.  Many of them eat too much sugar and too much candy and they are unwell.  And so we are teaching them.  We are involved enough in the community to teach them how to cook, how to prepare food and what food is nourishing, and what is not.  These are great pleasurable things that we do.  Not that they are so great, but they are great pleasure.  To see people become nourished.  To see people learn some dharma, whether they understand it or not.  To even understand, Om Mani Pedme Hum.  To even repeat Om Mani Pedme Hung is so much better than anything else they could receive in the ordinary world.  Very simple things like that can make the world of difference, as you know.
Copyright © Jetsunma Ahkon Norbu Lhamo All rights reserved