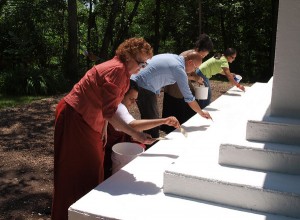 Actually these teachings on the Four Noble Truths are the lessons that we are trying to implement here in this temple.  One of the goals that I have personally invested a great deal in is to try to create in this temple an opportunity for sentient beings to invest their effort, their kindness, their resources in whatever way in order to bring benefit to others. I feel that this is a beneficial practice. According to the Buddha's teachings, this is one way to create the perfect interdependent cause and effect arising in order to create the kind of happiness that we wish. The efforts that we engage in here don't seem to bring much result at this time, in this way.
Right now, for instance, we are holding a twenty-four hour a day prayer vigil. There's always someone in that room behind the staircase, the shrine room, who's praying for the welfare of sentient beings. There are 12 two-hour shifts a day and we go round the clock twenty four hours a day. Now what is that producing for us now? Nothing, absolutely nothing. We lose sleep, we get irritable, we're tired. Sometimes we don't want to get up and do this thing. Sometimes we do everything that we can to trade shifts so that we don't have to be there on Saturday morning. But somebody gets stuck with it, I guarantee you. Where's the payoff? Why would we want to do that?
Let's talk about some of the other things that we do. Right now we're building a stupa park with eight stupas in it. In the past we've built the stupa that is out on the grounds toward the parking lot. When we built that stupa out there, we had weather such as we've had in the last couple of days. For some reason, every time we build stupas this happens. I don't know why, but it seems to be in the high nineties, if not a hundred or over, with humidity just under pouring. You know somewhere around ninety-nine point nine. It's just beastly weather and it's very difficult. We get out there and we work very hard and we sweat very much. And it seems as though the effort will never end. It's very, very hard because we do everything ourselves. Sometimes we lose weekends for a whole summer. Sometimes we lose evenings for months. We don't get much rest; we work very, very hard.
Why do we do this? What's the benefit? What are we experiencing right now in building this stupa park that's so wonderful, besides backaches and sore limbs.  It seems as though nothing. It seems as though we're just working very hard for no good reason. But actually what we are doing here is we are implementing the Buddha's teachings. The Buddha teaches us that whatever we can do to benefit beings, to bring happiness and well-being to sentient beings, will bring us happiness and well-being as well. The Buddha teaches us that the point of our practice, the point of our lives, is to actually engage in meritorious, generous, wholesome and virtuous activity that will be of benefit to sentient beings. And the Buddha teaches us specifically that the only lasting permanent true cessation of suffering, and therefore benefit to sentient beings, is enlightenment. The true cessation of suffering is the state of enlightenment.
Copyright © Jetsunma Ahkon Lhamo.  All rights reserved