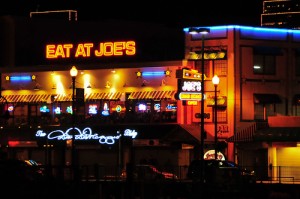 The following is an excerpt from a teaching by Jetsunma Ahkon Lhamo during a "Good Heart Retreat"
Seriously, I do feel that there's something wrong with the way we're practicing religion. I really do feel that it is the job of spiritual people, who have as a centerpiece in their religion the idea of compassion, to really move forward towards ending suffering. A great first step is a good, hot meal for someone who's hungry; some nice warm clothes for someone that doesn't have enough; to know for sure that there is no child in your community who doesn't get a Christmas present, a good one, not just left over crap, a good one.
Last year I remember when I was doing a little Christmas shopping, I think it was at Borders Bookstore, that I had this great, terrific little plan. I like to buy my daughter a lot of books. She's a big reader and they keep her really quiet, when she's not listening to Alanis Morrisette. So anyway, I buy her a lot of books and she's very much a lover of books. When I went in there to buy a stack of books for her Christmas present, there was this great idea. It was a Christmas tree, and the Christmas tree had kids' names on it and what grade they were in, what sex they were. You could pick one of the ornaments with the kids' names off of the tree and you could buy them a book right there. I bought about ten books that day. How much more trouble is it to make it 11 or 12? It was a great idea. It was just a great idea. If we really started to brainstorm and think like that, we would come up with similar ideas.
Most of the lack that we experience, most of the poverty that we profess to have is merely conceptual. You know, it kind of goes like this: You say, 'Gee, you know, it's Sunday night and I'd really like to go out to eat, but I already went out to eat on Friday night and my budget only let's me go out to eat once a week. So I can't go out to eat tonight, but I'd really like to. Well, maybe I'll just kind of mosey on over to a very cheap place, and I'll get a very cheap thing.' So you go to "Eat at Joe's" or something, and it may not be the best food in the whole world, but you're getting to eat out tonight. That means no dishes, so this is great. So you sit down at this place and you think, 'All right now, I'm sticking to my budget, so I'd better get a cheap thing.' You look at the cheap things and you go, 'Well, you know, for just $2 more I could have a nice thing. And for $1 more than that I could have a salad too.' So pretty soon, you kind of warm up to the idea that $2 or $3 extra's not so bad. You know? Well, that kind of thinking can be encouraged in other ways also, because that extra $2 or $3 or that thing that you did by going out to eat and treating yourself is not going to break the bank. You have a concept that it's going to break the bank, but it's not going to break the bank.
So what if we were able to think that way ourselves. Like for instance, what about when we go grocery shopping? Supposing when we go grocery shopping, we have to spend $150, some families $200. Hey it happens, right? When was the last time you walked out of the grocery store with less than $100 worth of food? So, let's say we walk in there and we think to ourselves, 'Well, I'm going in to buy $100 worth of food, $150 worth of food.' Would it really kill us if it cost us an extra 10% this time? Maybe $15 worth of canned goods or some food that we could share with our community. How painful is that? How painful is that when we see ourselves going up and down the Keeblers little elves aisle thinking which one of these gizmos do I want, because I can have them all. Or we go by the deli and think, 'What deli thing must I have today?' You know, we are an affluent society and we do that. And that's fine, that's fine. But supposing while we're doing that, we could also buy some food that we could share with the community.
It's not so unimaginable. Okay, maybe you don't have that extra 10%, or don't think you do. Start with 5%; start with one can. Start by asking somebody else if they have a can to lend you. But start, anywhere. I mean this is something that's just easy to do. No one in our community has to go hungry. Even if we're living here in Montgomery County and there's not so much hunger here. If we can't find any here, cross the line folks. There's plenty in D.C.. What's wrong with that? How hard is it? It's not hard at all. So maybe this week you get Bartlett pears rather than exotic pears, and with that extra money you can buy a can of soup for somebody. That's okay. You'll live.
What I'm asking you to do now is to begin to formulate how as a community we are going to move into the world. As I explained earlier in the retreat, we are to some degree following a monastic format that was presented to us in Tibet. We have our ordained community. We have our lay community. But it's never going to fly in that format here. In Tibet, the monasteries were isolated and separate. They experienced a whole different world which did not interface with the community very much. That's not going to work here. The majority of Buddhists are probably not going to be ordained. So Buddhists have to get involved with the lives of householders. That has to be part of the Buddhist community in as respected and as strong a way as the ordained Sangha. So it would seem to me that while we are searching for a way to express the Buddha's teachings in our society without fear and hesitation, with compassion and equanimity, let's also toy with the idea of, as a Sangha, as a spiritual family, as a community, being a visible presence in our world. There should be a place to go to, and someone you can count on, but mostly a good heart in our community.
Copyright © Jetsunma Ahkon Norbu Lhamo All rights reserved