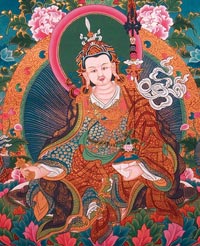 An excerpt from a teaching called How to Pray by Being by Jetsunma Ahkon Lhamo
We must practice guru yoga. Without guru yoga, we will never learn to pray properly. Guru yoga is the nest in which our prayers are developed. In guru yoga we see the lama as the embodiment of all the fields of refuge—all of the excellent, extraordinary displays of Buddha nature that did not arise in samsara, that are pure and untainted.
The lama is our boat across the ocean of suffering. A proper lama, from an unbroken lineage who is free of suffering and delusion and motivated by compassion, has made that trip before and knows how to get across. If we practice the Dharma correctly, we will see that lama in a way we've never seen anyone else before. We can then approach the lama like a child, without judgment. We can ask kindly and without fear, "Will you help me?"
Now, of course, judgments will rise up in our mind because that is our habitual tendency. But that then becomes our battleground. That is where we take a stand and draw the line. Once we've put our trust in the lama, we say, "I know that you have been taught by the great lamas that have been taught by the great lamas that have been taught by the great lamas, and all of them in an unbroken lineage have achieved enlightenment." We realize that the lama is the door to liberation, and we do whatever it takes to walk through that door—whether it's getting down on our knees, challenging our habitual tendencies or changing.
We have to be willing to change. Dharma cuts like a knife. It's supposed to; it's doing a big job. And we have a lot of work to do because most of our life we've spent chanting the mantra of samsara, the mantra of self-absorption. So we look to the teacher. We look to the Buddha. We look to the Dharma. We look to the Sangha. We look with determination, strength and courage or vajra pride.
Vajra pride, the courage to say, "I'm going through the door of liberation," does not come from the ego. It is not ordinary pride. Instead it is steadfastness and determination to change utterly and completely. Do you know what prayer is? Prayer is this (makes a cutting motion and rips open her chest). That's prayer.
Through the practice of Guru Yoga, we become absolutely non-dual with the guru. That is the wish and the hope. That is also the method and the way. We mix our mindstream with the guru like mixing milk with water. And they can mix perfectly and constantly.
We practice the ngundro Guru Yoga and we practice the Shower of Blessings, and that's a wonderful place to start, but how many minutes do we miss? How much time do we miss playing around in ordinary puddles—ordinary reality—when the ocean of wisdom is within reach?
The lama is not a separate person who we only get to see every now and then. When we see the lama, we are looking at the Nirmanakaya form of the Buddha. Guru Rinpoche himself said, "I will be there in the form of your root guru. When you call out to me, I will be there."
© Jetsunma Ahkon Lhamo