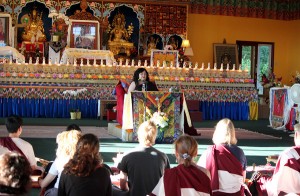 The following is an excerpt from a teaching given by Jetsunma Ahkon Lhamo at Palyul Ling Retreat in New York 2012:
In the beginning, all the lamas, including His Holiness Penor Rinpoche, ever taught us about was the bodhicitta. All we ever got was the bodhicitta. People would ask for Dzogchen. Give us Dzogchen. And the lamas would say, "No, you're not ready. You're not ready. Let's start with the bodhicitta."  After awhile, Americans got really sick of the bodhicitta. It's really sad, but they did. I never did. In fact, I never stopped teaching bodhicitta. I know that now the bodhicitta is kind of reduced to a small bit of speech or teaching that comes right at the beginning of a practice or a wang or teaching. It is very condensed compared to what it used to be. When the lamas first came to America, it was just bodhicitta, and really nothing else. But the American students were insistent that they were ready for the Dzogchen. Eventually the lamas gave in. And I am sorry that happened, because I think we missed something.
I notice that when some practitioners practice, they're calm and that's good, but they are also solemn. They are not so happy looking, not so joyous. Dharma is joyous. To be able to practice Dharma is a feast.  There's nothing in the world more joyous than that, because you have something—. \you have Buddha in the palm of your hand. You have something that nobody else has here in America. Other people have other teachers. And they have other lineages and that's great, but we have this. And we should be thrilled and happy, and try to maintain the understanding of how precious this is.
The day we decide that we are too advanced for bodhicitta is the day that we've lost our way. Because if all we ever studied from this point on was the bodhicitta, it would be enough. Sometimes when we go into the higher teachings, we forget what the root is. Bodhicitta is the root. Bodhicitta is the root of everything that comes after. If you cannot develop the bodhicitta, it will be very difficult to stay on the path. As they say, the bodhicitta is like the dakini's warm breath. It is what we consider to be the activity of the Buddhas, the nature of the Buddhas, like the sun's rays—part of the sun and yet coming out to bless all. So when we think about the bodhicitta and we think that maybe it's an early practice, and maybe we are being insulted by being taught this practice or maybe we should be allowed to go on, don't hurry.
If I had my choice, I would teach nothing but bodhicitta. I used to do that, almost like Baskin Robbins's 51 flavors of ice cream. I used to think about 51 different ways, as many ways as I could, to teach bodhicitta. I would get really creative so that it wouldn't be boring. And what I found is that most people didn't notice that they were only being taught the bodhicitta, because I would teach it in such a way that it would seem different and interesting. And I would make people laugh, and that always helped. You can't be stiff when you are laughing. I made it joyful. All of us felt great joy to be together, as I see you do too. I think it is the most beautiful part of the Dharma. If we say that it is the smallest part, or the least of the parts, it is a mistake. Do all of you understand that?  It is a mistake if we put bodhicitta lower than anything else, because in order to practice we need the bodhicitta desperately. It is what keeps us going. It is nourishment.
My philosophy is that if we are on the path and every year we practice really hard and really purely here and then go home, but then forget about it, as so many of us do, then in my experience we need to go back to the bodhicitta and study the suffering of sentient beings again, again and again. Study the suffering of sentient beings so that you can understand why it is that you are practicing. You'll have strength to practice because you will see them, and they are suffering terribly.
Seeing that woman and her husband on the roof was for me a great motivator. It was a great strengthener. It gave me spiritual muscle so that whatever I did, bodhicitta was always the crown on the head of my practice. And then above that, of course, is Tsawai Lama—above the crown of my head, and in my heart, as I know he is in yours.
Copyright © Jetsunma Ahkon Lhamo.  All rights reserved