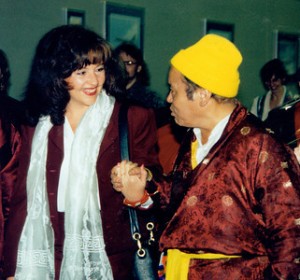 On May 3, 1994 His Holiness Kusum Lingpa gave this commentary on the Long Life Prayer for Jetsunma Ahkon Lhamo that he wrote for her.
I wrote this longevity prayer on the day that I arrived here.  The first human rebirth of Ahkon Lhamo occurred some 300-400 years ago in Degii, which is the eastern country of Kham.  She was born as the sister of the Vidyadhara Kunzang Sherab who was the founder of the Palyul lineage.  And her name was Ahkon Chang Chub Lhamo.   She was a true Dakini.  At that time in her life she didn't have a lot of wealth or a lot of ordained sangha followers per se in a monastic type of situation, but she was a great practitioner and she had tens of thousands of disciples.  She was able to spread forth the doctrine in an amazing way.  Previously, she was Mandarava, Lamchen Mandarava, who was the Indian consort of Guru Padmasambhava.  Mandarava was well known of the 21 Taras to be the emanation of White Tara and Drolma Karmo.
Now she has once again arisen from the sphere of the Three Kayas and the name that I have mentioned for her is also her name in this lifetime, Lhamo Metog Dron, which appears throughout this prayer.  She has come to you as a true guide and object of your devotion to lead you on the path to liberation so you should always have strong faith and devotion in her and receive her spiritual instructions.
She is one who is destined to work for the doctrine and the purpose of sentient beings and won't have a lot of time for retreat or extensive accomplishment practices, because her commitment is to spread forth the doctrine and work for sentient beings directly through activities in the same way as leaders like His Holiness the Dalai Lama, who always shows the amazing example of someone who is solely concerned for the purpose of benefiting all people of all nations in the world, but of course primarily as his responsibility, he is the spiritual and secular leader of all of the six million Tibetan people.
The Dalai Lama himself is always circling the globe in pursuit of bringing the message of freedom and peace of mind to all beings, so he is a supreme example of someone who untiringly and unceasingly works for the benefit of parent sentient beings and the doctrine through his activities.
Similarly, His Holiness Pema Norbu Rinpoche has undergone incredible hardships and difficulties to establish the doctrine in India and in Western countries.  He has thousands of ordained sangha members surrounding him and is the upholder of the supreme Nyingma School at this time, a great example of someone who unceasingly works to spread the doctrine and benefit beings in this world.
Similarly, the great Dodrupchen Rinpoche who is one of the great masters of all time, an emanation of Guru Rinpoche, has thousands of monk followers and is someone who supports all of his sangha, even right down to giving them the food that they eat.  And so, he has had to take it on as his own responsibility to support all of those who have chosen the path of renunciation and who wear the golden robes of the ordained sangha.
Now, for myself, even though I also do have a fairly large institution, I myself really don't even eat food that is that good and I always try to give better food to my community.  I consider myself to be a servant of sentient beings.  I try not to stay in a high place with a lot of elaborations.
In fact, the way to be of the greatest benefit to others is to personally remain low and humble.  This is the way that the Dakini always remains as well.  And so, I would like to make it the first priority of Dakini Ahkon Lhamo and the sangha to always honor the sovereign of your Buddha family, His Holiness Pema Norbu Rinpoche until the time of your death.  He is truly your leader and your root teacher, the head of your lineage.  There is nothing else that you need to do.  There is no other place that you need to go other than to be right here to propagate the doctrine that he has so securely established here.  If it were I, I certainly would be 100 percent satisfied to be under the guidance of such a great realized being.
In terms of this Palyul lineage, since Ahkon Lhamo herself is the reincarnated sister of the founder of the Palyul tradition, Vidyadhara Kunzang Sherab, then clearly this is your own spiritual tradition.  Except for Palyul, it is not so important to pursue other traditions because primarily you should be propagating the Palyul tradition.  It should certainly never, ever be forgotten.  Ahkon Lhamo must continue to propagate it and never forget it, even at the cost of her life.
And so, primarily then, Pema Norbu Rinpoche is your sovereign, your supreme root teacher, whom you should always honor above and beyond all else and you should always uphold the Palyul lineage and doctrine and see that it is propagated in this Western land.  All of you disciples should take care of your precious teacher and she will always take care of you in assisting one another to accomplish these goals in this land.
His Holiness Kusum Lingpa and Jetsunma Ahkon Lhamo wearing Green and White Terton Robes