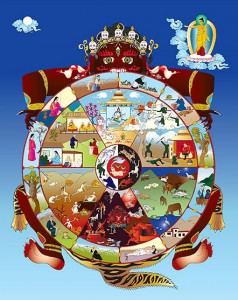 "As long as prisoners do not know that they are in prison and do not perceive the life of prison is difficult and painful to bear they will not develop any genuine wish to free themselves from prison.
The same is true of samsara: as long as you are unable to perceive. The defects of life within this cycle of existence, you  will never develop a genuine wish to gain nirvana, freedom from samsara.
If we remain idle and do not think seriously about karmic law, we might feel that we are not accumulating any negative actions and that we are good practioners.
If we analyze our thoughts and actions closely, however, we will find we are engaging in idle speech, harming others, or engaging in covetousness on a daily basis.
We will find we actually lack the primary factor of deep conviction Necessary to really observe the law of karma." From: THE WAY to FREEDOM by His Holiness Dalai Lama of #Tibet @Dalailama#Buddhism
Something told me to open my book to pg108. And there were jewels there, the unfathomable wisdom of HH Dalai Lama.  I gathered them for YOU!  Jetsunma Ahkon Lhamo